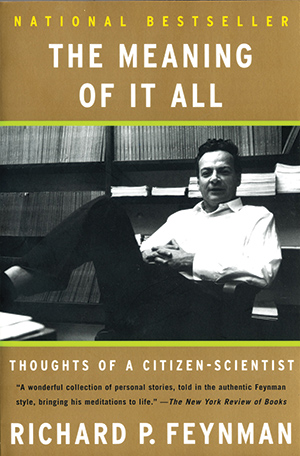 To commemorate the University of Washington's 150 years of discovery and inquiry, the 2011-12 Common Book is The Meaning of It All: Thoughts of a Citizen-Scientist by Richard Feynman. The Meaning of It All was the result of a three-part lecture series Feynman gave in 1963 that was made possible by the Jessie and John Danz endowment.
In those lectures, Feynman shared his love of the unknown, his drive to better understand our world, and his hope "for freedom for future generations—freedom to doubt, to develop, to continue the adventure of finding out new ways of doing things, of solving problems."
To continue the tradition of encouraging our students to engage in wonder and inquiry, the UW will host Persi Diaconis, Stanford University statistician, MacArthur Fellow and former circus magician. His talk, Mathematics and Magic Tricks, will be held in Kane Hall on Oct. 12 at 7 p.m. For more information, visit uw.edu/uaa/commonbook.