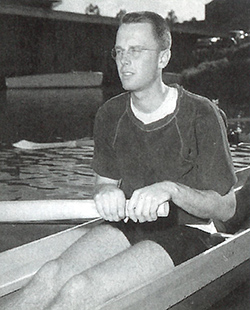 Matthew Fillip "Fil" Leanderson, '53, who died Nov. 2, had a dedicated work ethic and an innate sense of leadership that carried him to a stellar career as rower and coach for the UW crew ream.
As a junior, he was hand-picked by then-coach Al Ulbrickson for an elite ream that would eventually qualify to the 1952 Olympics. Due to a series of misunderstandings, that team ended up in Helsinki without a coach. Leanderson rose to the occasion and led the squad, piloting them to a bronze medal for four-oared shell with coxswain. "He was a fierce competitor," teammate Al Rossi, '53, recalled on the UW crew website. "But it was his rowing ability that helped carry us in the Olympics."
His passion and experience helped Leanderson move on to a coaching position at MIT after graduating. In 1956 he returned to the UW, hired by his former coach to lead the freshmen, and eventually succeeded Ulbrickson as head coach in 1959. In the nine years Leanderson led UW crew, his teams dominated the West Coast and won multiple championships.
From 1977 to 1993 he headed up the Western Washington University crew program, coaching his rowers to a number of small-college championships. He is a member of both the Husky and the WWU Viking halls of fame.
Leanderson met his wife, Jane, '53, in an English class their sophomore year at the UW. Even after his retirement in 1969, the two continued to watch the UW crew team with interest and with stopwatch in hand. They often took their three daughters—Linda, Gretchen and Paula—on salmon-fishing trips on Puget Sound. Leanderson was also an avid gardener and model-airplane flier.
Leanderson remained close with his surviving Olympic teammates—Rossi; Al Ulbrickson Jr., '52; Carl Lovsted, '52; and Dick Wahlstrom, '54—throughout his life. Each year, around the time of UW Homecoming, the men would reminisce over dinner and Rossi's homemade wine. Wahlstrom passed away in 2003.
Leanderson was 75 years old, and is survived by his wife, daughters and three grandchildren.