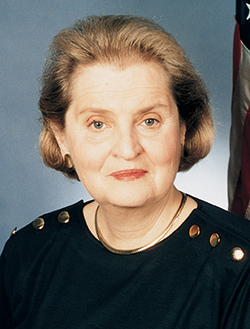 Madeleine Albright, former U.S. secretary of state and the highest ranking woman in the history of the U.S. government, will be the featured speaker at the 127th University of Washington Commencement ceremonies starting at 2 p.m. Saturday, June 15 in Husky Stadium. At that time she will also receive an honorary doctorate of laws from the UW.
At the ceremony, Albright will address around 5,000 graduates who attend commencement-about half of the 10,238 students the UW estimates will complete their degrees in the 2001-02 school year. If this estimate holds, the Class of 2002 will be the second-largest in UW history. Last year there were 10,516 graduates. These students are also graduating faster than previous classes. The six-year graduation rate for undergraduates is now at 70 percent. In 1995 about 67 percent of all UW undergraduates got their degrees in six years.
This is the fifth year the UW will hold its graduation ceremonies outdoors in the stadium, but there will be some changes this time. After the events of Sept. 11, security has been heightened at all large UW public gatherings. "We'll be taking additional measures. There will be visual inspection of bags as there is at football games," says University Relations Associate Vice President Norman Arkans.
Security will be high for Albright, who served as Bill Clinton's second secretary of state from 1997 to 2001, traveled almost 1 million miles and visited 91 countries as what the Los Angeles Times called "the most powerful woman in U.S. history." Under her tenure, NATO led a successful campaign to reverse ethnic cleansing in Kosovo and expanded into the former communist nations of Poland, the Czech Republic and Hungary. She also helped achieve the reduction of nuclear dangers from Russia and North Korea; the expansion of democracy in Europe, Africa, Asia and Latin America; and the expansion of trade with China, the Americas and Africa.
When asked in a Los Angeles Times interview what was the low point of her term, she named the 1998 embassy bombings in Africa, the work of Al-Qaeda and Osama bin Laden. "Going to see the bombed-out buildings in Nairobi and Dar es Salaam was very hard. The hardest thing I've ever done was to bring those coffins home," she said.
Albright's prior public service includes a term as U.S. ambassador to the United Nations from 1993 to 1997 and foreign policy work for the Carter administration.
Albright was born in Prague in 1937, her father, Josef Korbel, was a Czech diplomat who escaped to Britain during World War II. One of her earliest memories is sitting under a steel table during air raid drills, she told Time.
The family returned to Czechoslovakia after the war but had to leave in 1948 after a communist takeover. That government later condemned her father to death in absentia. Fluent in five languages, Albright earned her bachelor's degree from Wellesley College and her master's and doctorate from Columbia University. The mother of three daughters, she is working on her autobiography, due to be published in 2003.
UW Tacoma ceremonies will be held at 10 a.m., Friday, June 14, in the Tacoma Dome. The speaker will be U.S. Rep. Norm Dicks, '63, '68. UW Bothell will hold its commencement at 2 p.m., Sunday, June 16, in the Bank of America Arena at Hec Edmundson Pavilion. The speaker will be state Sen. Paull Shin.
Graduates from all three campuses are eligible for a free, one-year membership in the UW Alumni Association. For more information, visit the UWAA Web Site at UWalum.com or call 1-800-AUW-ALUM.