Frenchman boosts UW men's tennis team's hopes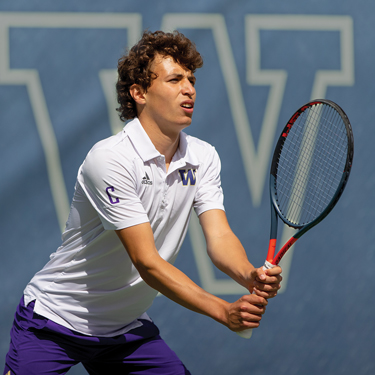 The Husky men's tennis team has high hopes this spring, thanks in part to the play of junior Clement Chidekh of Lyon, France. As a newcomer to the UW last year, Chidekh had a brilliant first season as a Husky, earning All-Pac-12 First Team honors, becoming the first Husky to do that in his first season since 2004. Playing at No. 1 singles, he went 13-6, won 13 of his first 14 singles matches and finished the season ranked No. 106 in the Intercollegiate Tennis Association national rankings. He also was named the ITA Northwest Region Rookie of the Year.
Chidekh started playing tennis at the age of 3 and won a national singles tournament at the age of 13. He was ranked in the Tennis Europe Top 100, and last year, as a UW sophomore, won his first six doubles matches, including impressive road wins playing at No. 2 doubles against Arkansas and Tulsa. Magnifique!