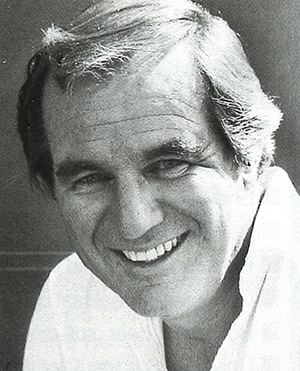 "Thanks for the Memories" may be Bob Hope's theme song, but it could just as well apply to Fritz Apking. A 1952 drama graduate, Apking retired after 30 years in Hollywood, most of it spent as a stunt double for such stars as Charlton Heston ("Planet of the Apes"), Rock Hudson ("Tobruk"), Vincent Price ("House of Wax"), George Kennedy ("The Blue Knight"), Chevy Chase ("National Lampoon's Vacation") and 20 years as stand-in and stunt double for Chuck Connors, star of the TV western series "The Rifleman."
"I did a lot of horse things in the '50s and '6os, when westerns were in vogue," Apking recalls. "I was basically a fight man and did a lot of saddle falls." He also did car chases and jumped over obstacles in automobiles. It was Apking, not Chevy Chase, behind the wheel for the wild freeway driving en route to the Wally World theme park in Vacation.
Apking remembers a leap across a 12-15-foot crevasse, wearing high cowboy boots, as his most hazardous stunt. Although he never experienced a serious injury, he brought some chronic "back problems" with him into retirement.
He also brought treasured memories. He has had lunch with President Kennedy at the White House. He "hung out" with Peter Fonda and Dennis Hopper in Peru where he was a stunt man for "The Last Movie." He remembers with special fondness spending three months in Prague in 1968, making the World War II film "The Bridge at Remagen." During that Prague Spring he met Premier Alexander Dubcek, who shared a beer with Apking and a group of students the stunt man had befriended.
Apking, who played end on the 1949 and 1950 Husky football team and signed a contract with the San Francisco 49ers, worked under the name Fritz Ford or Frederick Ford He started his career as an actor in the 1955 film "Mister Roberts." That was followed by guest spots on the Ann Southern and Loretta Young television shows. But the last-minute dialogue changes proved frustrating to Apking. He cheerfully acknowledges that, when it comes to dialogue, he's not a "quick study." "This is it for me," he told Connors one day. "I'll be your stunt man." And a new career was born.
Now happily retired to a life of golf, reading and property management, Apking says, "It was the most fabulous job a guy could ever have …. I have enough stories to last me the rest of my life."