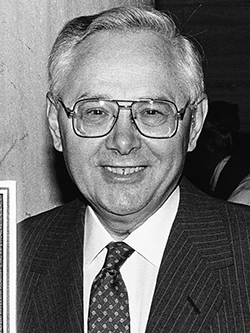 George Kozmetsky, '39, who received the Alumnus Summa Laude Dignatus Award in 1989 as the University of Washington's alumnus of the year, died April 30 of Lou Gehrig's disease. He was 85.
A visionary in higher education, business and technology, Kozmetsky helped lay the groundwork that made Austin, Texas, into one of the nation's premier technology hot spots.
In 1960, he co-founded a defense electronics company called Teledyne, which he developed into a Fortune 500 company in less than six years. He also founded the IC2 Institute in 1977 and the Austin Technology Incubator in 1989, both of which helped to shape Austin's growing tech economy.
In 1966, he was named the first dean of the College of Business Administration at the University of Texas-Austin. Over his 16-year tenure there, he transformed the institution into a national powerhouse for research and graduate business education.
What separated Kozmetsky from the pack was his ability to always look ahead, says Mark Yudof, chancellor of the University of Texas system. "He was able to see beyond the present horizon and to envision new ways of doing business, new techniques for the industry, and new partnerships for a stronger economy and a more productive educational system," he said.
A former ROTC cadet at the UW, Kozmetsky enlisted in the U.S. Army in 1941 and served as a medical corps officer in World War II. He earned a Bronze Star, Silver Star and the Purple Heart after being wounded while performing spot surgery on the front line.
Kozmetsky, who was born Oct. 5, 1917, in Seattle, graduated from the UW in 1939 with a bachelor's degree in business administration before earning an M.B.A. from Harvard in 1947 and a Doctorate of Commercial Science in 1957. He is survived by his wife of 59 years, Ronya, and their two children.