Give Me 5: Dan Kingma, basketball player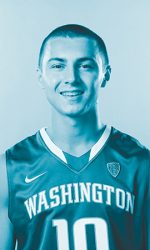 Despite scholarship offers from other schools, Dan Kingma was certain that he was a Husky, even if that meant joining the program as a walk-on. As injuries mounted late in the season, the 5-foot-10 freshman—who Coach Lorenzo Romar refers to as "an energy giver—found himself playing meaningful minutes, quickly establishing himself as a fan favorite.
1. You walked on. Were you treated any different?
No. Coach Romar told me he would not treat me different than anyone else. My teammates and coaches welcomed me from day one.
2. How did your two Husky sisters help you transition into college?
Having Kristi, who already finished her playing career, was great because I could ask her about what it would be like. And having my twin sister Kelli, who is on the team, is awesome because I have my best friend nearby.
3. How did it feel the first time you stepped on to the court?
Everything went so fast that I didn't think about it too much while I was playing. After the game, it hit me that I had just played a real game in a Husky uniform, something I dreamed of all my life. I remember my first basket pretty well. It was a layup against Grambling State in a game that we won by about 50 points. It was a big relief to finally get my first basket. And another thing that was cool was to see how excited my teammates were to see me score for the first time.
4. As a walk-on, do you think fans relate to you a little more?
I think its just more of an underdog type of thing. If you watch games from all around the country, you would see that most walk-ons are kind of fan favorites.
5. Got any plans for the offseason?
One of my main goals is to get my body stronger. At this level the players are all so physically gifted that I need to do my best to try to narrow the gap between me and my potential opponents, while also continuing to improve the skill aspects of my game.