Give Me 5: Star volleyball player Krista Vansant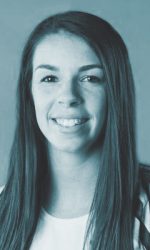 Krista Vansant is the 2013 national volleyball player of the year.
1. Beach or indoor — what's better?
I like indoor better just because I've played it longer and I know the game better. I feel like I have a better volleyball IQ when it comes to being indoor. I do like that beach is a lot less restrictive and a little looser than indoor.
2. You spent part of the summer in Tahiti. Can you now say "national championship" in French?
I know how to say 'bonjour' and 'merci' and that's pretty much it, so not much French, no!
3. How long would you have to live in Seattle to stop cheering for the Angels and become a Mariners fan?
Probably a really long time. I am an Angels fan always at heart. But I do go to a lot of Mariners games and I do enjoy it.
4. Favorite volleyball road trip? … Favorite pre-game meal? … Favorite class at UW?
Road trip … probably the L.A. schools because that's home and I always have a lot of friends and family who come to watch. Pre-game meal … it's the same every time, chicken, broccoli and pasta with marinara sauce. Favorite class … that's hard, there are two. I enjoyed Psych 101 and Drugs and Society,
a sociology class that was really interesting.
5. Planning any trips to Rio in the summer of 2016?
I hope to train with the national team when the season's over, and hopefully through the summer. Go to any tournaments that I can with them if they'll have me, and try to make the U.S. Olympic team for ≤io. That's my goal at the moment. If that doesn't happen, then play pro and keep playing until I do have an opportunity to make that happen.