In fantasy sports, professor has a statistical advantage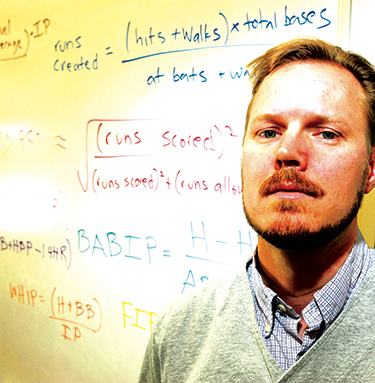 When you've helped program the Mars Rover, picking a fantasy baseball lineup must be a piece of cake. But Clark Olson, '89, '90, an associate professor of computing and software systems at UW Bothell, says that it's not that easy. The skills he honed during his five years at the Jet Propulsion Laboratory are the same ones he has used to conquer the stats-heavy world of fantasy sports.
Both require "a lot of computational and algorithmic thinking," he told the New York Times in a recent article titled, predictably, "In Fantasy Sports, It Helps Being a Rocket Scientist."
Olson has finished among the top three in ESPN's Über Standings—which rank fantasy players based on aggregate performance across multiple sports—every year since 2002. He currently manages 16 teams: seven in baseball, five in basketball and four in hockey.
"Clark is a bit of a legend on our message boards," Matthew Berry, the senior director for fantasy leagues at ESPN, told the Times. "He is the Albert Pujols of fantasy sports, a player who consistently produces, a player who is money in the bank."
Olson may inadvertently have given away his secret, however, by agreeing to be photographed in his office. Behind him, on a dry-erase board, it's plain as day that winning percentage is approximately the equal to the square root of runs scored squared, over runs scored squared, plus runs allowed squared. Then again, that may be common knowledge among fantasy baseball players.