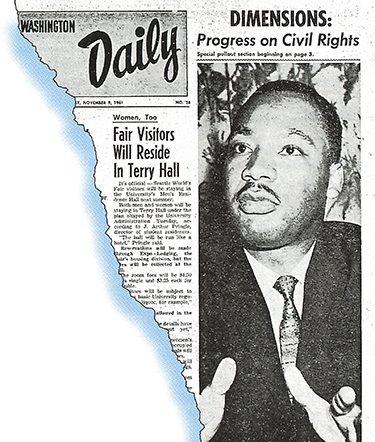 Just about everyone who was on campus in the early 1960s remembers when President John F. Kennedy came to Seattle to attend the University of Washington's centennial celebration in 1961. Not nearly as well known is the fact that Dr. Martin Luther King Jr. spoke on campus only a week before.
King's lunchtime speech at the old Meany Hall on Nov. 9, 1961, came during the legendary civil rights leader's only visit to the Pacific Northwest.
Even though King was coming to a relatively calm part of the country, his visit still turned out to be controversial. While news of his upcoming visit was enthusiastically greeted in Seattle's African-American community, some were concerned that his visit could stir up trouble. And sure enough, there was trouble. The Rev. Samuel McKinney, pastor at Mount Zion Baptist Church, a college classmate of King's who arranged the Seattle visit, said he received phone calls threatening harm to himself and King. Members of McKinney's congregation who worked at Boeing reported finding anti-King material at work.
First Presbyterian Church in Seattle initially agreed to host King's visit but later backed out, claiming construction work and other commitments prevented it from being available. So McKinney arranged for other Seattle venues—including the University of Washington.
"The University is a place where great ideas are supposed to be dealt with, challenged, discussed, and shared," says McKinney, now 73 and retired from Mount Zion. "I wanted him to speak at the University of Washington."
King arrived in Seattle on Nov. 8, 1961. The next morning, McKinney picked King up at the Olympic Hotel (now the Four Seasons) to take him to the UW. The 32-year-old civil rights leader—who had been received antagonistically during a visit to England only days before coming to Seattle—was enthusiastically greeted by the more than 2,000 students at the old Meany Hall. His lecture, titled "Segregation and the Civil Liberties: Implications for Students," was sponsored by the local student chapter of the American Civil Liberties Union and the humanistic social studies branch of the UW College of Engineering.
Judi Hunt, '62, a longtime reporter for the Seattle Post-Intelligencer, remembers going to see King. "As a lifelong resident of the South, and a biracial child, I was keenly interested in racial events," she recalls. "I had to go see him in person. He was the first big hope the minority community had. He was an eloquent speaker."
In his talk, King called on President Kennedy to use an executive order to declare all segregation unconstitutional. He also talked about the vital role young people played in the struggle for civil rights.
"The student movements have done more to save the soul of the nation than anything I can think of," King told the audience. He received a standing ovation, and after his speech, he was surrounded by autograph seekers and well-wishers before heading off to a special luncheon at the HUB's Evergreen Room.
That evening, King spoke at Temple de Hirsch, visited with fraternity brothers who lived in the area and saw family friends. On his last day in Seattle, he spoke at Garfield High School, then at the old Eagles Auditorium in downtown Seattle, the main event of his visit to Seattle. Afterward, McKinney took King to Mitchell's Bar-be-cue, where they stayed until the wee hours of the morning, talking about old times. Early the next morning, he was on a plane home to Atlanta.
Even though he had a standing invitation to return to Seattle, he never took up that offer. "I guess he had to go where the heat was the hottest," McKinney says.