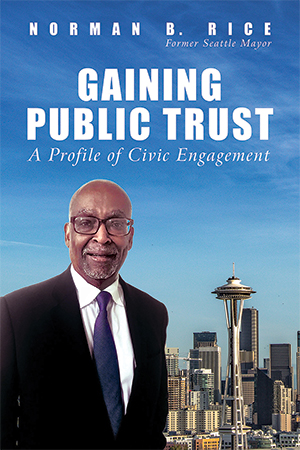 Norman B. Rice's timing couldn't have been better. His new book, "Gaining Public Trust: A Profile of Civic Engagement," came out just when our already turned-upside-down world was getting even worse.
For months now, Seattle has been an epicenter of pain and protest due to a rash of societal problems coalescing all at once: We saw the aftermath of the killings of Black citizens like Breonna Taylor, George Floyd and Ahmaud Arbery, not to mention the many other senseless violent acts against people of color. Downtown Seattle and Capitol Hill in particular became the scenes of ongoing violent protests, shootings, and vandalism. Add to that the contentious relationship between the City Council and Mayor Jenny Durkan, '85, angry calls for defunding the police, the sudden retirement of Seattle Police Chief Carmen Best, and the economic crisis in the wake of COVID-19. Add it up, and you have a city in desperate need of some help.
Thus, the autumn arrival of the book by Rice, '72, '74, the former two-term Seattle mayor and nationally known community builder, could not have been better.
"We need both civic and civil engagement," says Rice, who lectures at the UW Evans School of Public Policy & Governance. "We [didn't] have a healer in chief, and there are a lot of people with pent-up feelings, and that has resulted in riots and no solutions."
His book details what he experienced as mayor during particularly trying times for the Emerald City. "I was inspired to write about civic engagement because I believe that even under the most divisive and trying circumstances, people can be engaged to find the common denominator that brings them together," he says. When Rice, a journalist before he went into politics, was elected to office, Seattle was consumed with the most controversial issue in the city's history: using busing to achieve school desegregation. Walking into that highly charged atmosphere, Rice explains, "We learned to engage citizens in a manner that respects diversity of opinion and we learned to bring them together in a way that was goal-oriented, not grievance-oriented. The process and how we developed solutions became a model for us in going forward to deal with many other issues facing the city."
Given the teeth-gnashing issues the city—and society—is dealing with today, Rice identifies healing as the action that needs to take place first. "Leaders like the members of the City Council are taking the side of the protesters when their job is to heal," says Rice, the first Seattle mayor ever to become president of the United States Conference of Mayors. "We don't know yet what the solution will be, but there has to be a better way than just letting anger out. I think we need a pause. How do you have an intelligent, respectful conversation? When you have less anger. Right now, nothing is moving forward because people are responding to anger instead of coming up with a plan. We need a big timeout."
What Rice finds particularly disturbing is what is happening to downtown Seattle, where he and his wife, UW Regent Constance W. Rice, Ph.D., '70, '74 live. COVID-19 has caused many downtown stores to close, and downtown has become a focal point of angry, violent protests. "It hurts my heart to see what is happening in downtown Seattle," Rice says. The former mayor remains justifiably proud of his work rebuilding Seattle's decaying downtown when he was mayor from 1990 until 1998. And now it appears the same level of trouble has returned. "I worry that downtown may not come back," he admits. "Stores may be obsolete by the time the economy recovers. There may be too many changes."
Rice, who in 2017 received the University of Washington's highest alumni honor, the Alumnus Summa Laude Dignatus, may not be in politics anymore. But his passion for his city and the lessons he learned during one of the city's most contentious times 30 years ago are just as relevant today. And we need to heed them.
Proceeds from sales of the book, which is available at Amazon and Barnes and Noble, benefit the Northwest African American Museum.