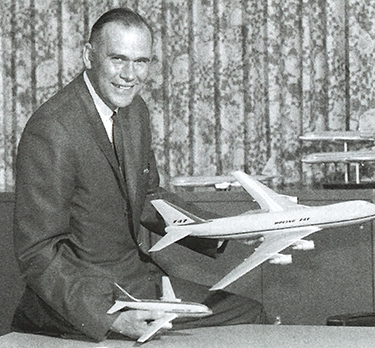 John E. "Jack" Steiner, '40, chief designer of the Boeing 727 and 737, the two best-selling commercial jets of all time, died July 29 near his Medina home. He was 85. The medical examiner concluded that Steiner accidentally drowned in Lake Washington.
During his long career at Boeing, Steiner was called a visionary for recognizing the need for a "family" of jets. He led the team that designed the 727 in 1963 for medium-range flights to small- and medium-sized cities. Until then, jet air travel had been geared toward long, international flights.
In the 727, Steiner, recipient of the UW's 1978 Alumnus Summa Laude Dignatus Award, introduced the triple-slotted flap, an innovation that made a jet's take-off and landing on short runways in medium-sized cities possible.
He later served as chief engineer on the 737, the best-selling commercial jet of all time. Combined with the success of 707, 727 and 747, the 737 helped make Boeing the most profitable aerospace company in the world. When Steiner–who also worked on the B-29 and 747–retired from Boeing in the mid-1980s, he was corporate vice president and chairman of the aeronautical policy review committee.
In 1981, Steiner was selected to be a member of the White House Aeronautical Policy study, and from 1982-90, he chaired the White House Aeronautical Policy Review Committee. He received numerous national and international awards for his work in the aerospace industry. The son of a lawyer, Steiner was first fascinated with boats as a boy growing up on Queen Anne. As a freshman at the UW, he wanted to study naval architecture but was advised by a local naval architect to go into a business that was "growing." He chose to study aerospace. He graduated from the UW in 1940, and received his master's degree in aeronautical engineering from MIT in 1941. He married his wife, Dorothy, later that year and began working for Boeing in 1942. He retired in the mid-1980s.
He is survived by sons John E., of Lake Stevens, and George of Seattle; sister Betty Christensen of Bellevue; and five grandchildren. His wife, Dorothy, died last January.