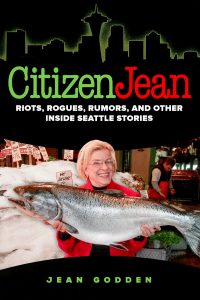 Jean Godden is Seattle's institutional memory. After a 12-year stint on the Seattle City Council and decades as a columnist, editor and reporter at both The Seattle Times and Seattle P-I, Godden played a role in many of the major events in her adopted town over the past half-century. Now she is recounting some of those stories in a new book: "Citizen Jean: Riots, Rogues, Rumors, and Other Inside Seattle Stories" (Washington State University Press, $22.95).
Godden may not tell all, but she does to name names and rake a little muck. From pornographic puppets at the Seattle World's Fair to picket-line views from the newspaper strike of 2000 to backroom wrangling at City Hall, Godden offers an engaging history lesson for newcomers to the region and a juicy replay for old timers.
Jean was a colleague of mine at The Seattle Times in the early 2000s. Recently, she took time to talk about her book and work.
---
Were you always interested in politics?
Oh, I think most journalists tend to be interested in politics because that is where the power lies. Why wouldn't you be interested in covering the most powerful forces in the city?
During your second term on the City Council, you lobbied hard to chair the Finance and Budget committee, not knowing we were on the brink of the Great Recession. Why was Finance your top choice?
If you care about what's going on in the city, the most important thing is how the tax receipts are spent. Of course, who knew that WaMu was going to go out of business? It was almost as bad as the Depression of 1929. We had to be cognizant of what were the most important things that a city does for people: streets, police, fire. You had to make whatever tax receipts you had stretch over those core services. Unfortunately, some of the things that were not as crucial, things like parks, and even libraries, took a blow.
You are in the interesting position of working first as a journalist who wanted full disclosure from public officials, and then as a city council member who had to comply with Public Disclosure Requests. How do you weigh in now on that balance?
I think it's perfectly possible to conduct government in the public eye. I won't say that we didn't sometimes say, "Oh darn, we've got to collect all of our emails and hand them over." But the fact is, the people should be able to find out what's going on in the government. I feel very strongly about it.
You started journalism school at Northwestern University, and then took time off to get married and have children before finishing your degree years later at the UW. What stood out about the program here?
I remember Don Pembers taught a wonderful class about law and journalism that was terribly helpful, where you learned about obscenity and libel and all the cases like New York Times vs. Sullivan. And Fendall Yerxa (1913- 2014) taught us a lot about writing opinion. He would lecture each time he came into class and tell us about what was going on in the world. Remember, I graduated in 1973, so it was the Watergate era—quite an amazing time.
Are you still involved with the Department of Communication?
Well, they inducted me into the Alumni Hall of Fame in 2005. It was very flattering. (Editor's note: Others on the list include former governor Christine Gregoire, '71, former Seattle mayor Norman Rice, '72, '74; and editorial cartoonist David Horsey, '75. See the full list.)
Your book "Citizen Jean" is a page-turner for people who are old-time Seattleites. Was it aimed toward newcomers, too?
I hope so. Whenever I go to a used book sale, I always pick up a copy of Murray Morgan's "Skid Road" and give it to people so they know how Seattle got to be Seattle. In fact, I gave a copy to (former mayor) Mike McGinn. He never returned it, mind you.
---