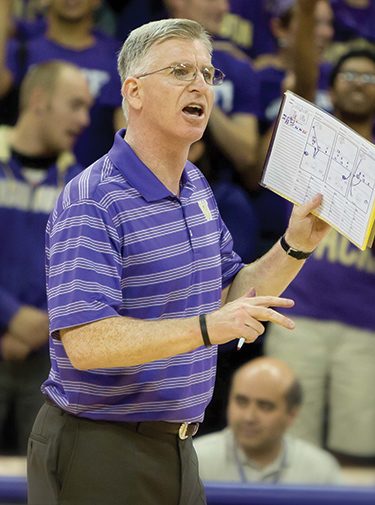 Excellence has become a habit for UW women's volleyball coach Jim McLaughlin. He is the only person to have led both women's and men's teams to national championships (UW in 2005; USC men in 1990) and was named National Coach of the Year in 2004. His most remarkable achievement, though, may be the consistency with which his UW teams have won since taking the helm in 2001. After another season spent ranked among the top 10 in the country, Coach McLaughlin reflected on his UW career as he prepared his team to compete in the NCAA Tournament for the 11th consecutive year.
How much has your coaching style changed over the years?
I just think as we ask our players to keep improving, we as coaches must keep improving. I was asked by another reporter, "could this be your greatest year coaching?" and my response was that I am better today than I was yesterday and I will be better next year than I am this year. It has changed. I have learned more about teaching and about mechanics and systems, but I hope I can always keep evolving.
How do you keep motivated, during the season and in the off-season?
It's about helping these kids meet their ceiling, and every ceiling is different. Just to help them become what they want to become, that is a motivator. I think that we are at a university that has the greatest conditions in the world and there is no reason why we can't be better than other universities. I take that personally—I want our volleyball team to one of the best in the country every year.
Is it harder to motivate teams that expect to be successful?
Whether we are picked high or low or whatever, we just can control how much we improve. Every kid that I have ever coached wanted to improve, but until they understand that mindfulness allows them to make changes in what they are doing, once they have learned that and see return on their work, it can become addictive. If we don't have high expectations, something is wrong.
Has new technology affected your coaching techniques?
Yeah, just in terms of our ability to film from multiple angles,o ur ability to digitize and keep specific stats that we believe helps the team make progress. What gets measured gets managed and what gets managed gets done. All those little things help us, but there is also overkill. I don't want to just spend money to spend it. If it can help these kids become better volleyball players and get more W's, then it is worth it.
What are the proudest moments in your UW career?
Every day you come to work at a great university and that is a proud moment. But when you hear about your kids going on to do great things after their college, it just fortifies the fact that what we do is not just about impacting them for four or five years. When you hear about our kids representing our university in the Olympic Games, like Courtney Thompson and Tamari Miyashiro and Janine Sandell, those are some of the greatest days as a coach.