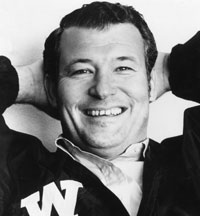 One of the most iconic figures in Husky football history, Jim Owens, died June 6 at his home in Bigfork, Mont. He was 82.
Just 29 years old when he took over a UW program in 1957 still stinging from scandal and probation, Owens was the fourth Husky football coach in six years. But he spent 18 years at Washington, winning three Rose Bowls in five seasons and putting West Coast football back on the map.
Owens was charismatic and, as one former player told The Seattle Times, "looked more like John Wayne than John Wayne." An All-American receiver at Oklahoma who was mentored by Paul "Bear" Bryant at Texas A&M, Owens was disciplined, detailed and brought a vigorous training and conditioning program to Washington. His players were tough, his teams even tougher.
But his career was not without controversy. As racial tensions and anti-war protests swept the nation in the mid- to late-1960s, Owens suspended four black players late in the 1969 season for a perceived lack of loyalty. Nine other black players boycotted the UW's upcoming game at UCLA, and the Huskies lost 57-14 en route to a 1-9 finish that year. Owens never coached after leaving Washington in 1974, instead finding success as an oil executive.
Owens, known to many as "the father of Husky football," retired as the winningest coach in UW history. In 2003, he was honored with a giant bronze statue of his likeness outside Husky Stadium. Owens, then 76, met with a small group of former players before the game and apologized, according to The Seattle Post-Intelligencer, for what he called "a painful time."