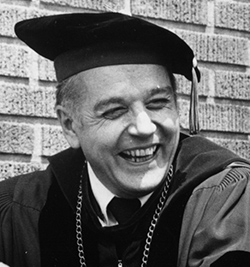 When he was named president of the UW in 1974, John Rusten Hogness told students at his inauguration that he would lose 20 pounds by fall quarter or they would not have to pay tuition. Through what he called "sheer willpower," Hogness lost 21 pounds by October of that year. And so began his turbulent five-year term as president after Charles Odegaard retired.
His first day on the job began with a threat from the federal government to cancel all of its grants within a month if the school did not fix its affirmative action program. Although aid was never cancelled, the threat remained. Meanwhile, state funding for higher education continued to decrease all the way through 1979, Hogness' final year, says Jane Sanders, '71, '76.
Sanders, who has a master's in history and a doctorate in education, interviewed Hogness extensively for her book Into the Second Century: The University of Washington 1961–1986. She was also a student during Hogness' term. "Being there was a pretty exciting place to be," she says of her time at the UW.
Hogness died of heart and kidney failure on July 2 at the University House retirement center in Wallingford. He was 85.
During the post-Vietnam, post-Nixon era, Hogness faced students who were skeptical of authority and institutions. Although, Sanders says, students during the '70s went from being very active to turning more inward, demonstrations still popped up all over campus. One major protest took place only one month into Hogness' term. Activists protested the political science department's decision not to offer tenure to a Hispanic professor. It escalated into a campus sit-in and students ransacked several offices in Padelford Hall. This led to the firing of two prominent Hispanic leaders and the suspension of another leader implicated in the protest. As a result, 20 more Hispanic faculty and staff members quit and more public demonstrations took place.
Hogness first came to the UW in 1950, when he was a resident at what was then King County Hospital and is now Harborview Medical Center. He spent seven years in private practice before becoming medical director of University Hospital. Hogness was medical school dean from 1964–1969. He then held the joint titles of UW executive vice president and VP of UW Health Sciences from 1969–1971.
One of his greatest UW achievements was the founding of WWAMI, a regional medical education program that now includes Washington, Wyoming, Alaska, Montana and Idaho. Of these five states, only Washington has a medical school. Under WWAMI, students take some of their courses in their home states and then travel to Seattle for other courses. The program encourages internships in smaller communities throughout the region. Hogness knew there was a need for more general practitioners, especially in more rural areas, says John "Jack" Lein, '55, former associate dean of the medical school.
Hogness was a man who tried to understand through firsthand experience. In the summer of 1968, he left his post as medical school dean for two weeks—without telling anyone—to fill in for a general practitioner in Omak who had gone on vacation. "You don't need a heart transplant doctor in Omak," Lein says of Hogness' action, which further emphasized the need for more doctors in rural areas.
He left the UW in 1971 to become the first president of the Institute of Medicine, which had just been established as part of the National Academy of Sciences. According to the New York Times, he "molded it to be an independent critic of the nation's health care system," resisting requests from members of Congress to take a stand on legislative proposals. The first extensive project for the institute was determining the true cost of a medical education in the United States. "Nobody had ever done that," he later explained.
When Hogness left the UW presidency in 1979, the Board of Regents established in his honor an annual symposium, featuring nationally renowned speakers on topical issues affecting health care, including the social and ethical aspects of medicine.
After stepping down, Hogness served as a consultant to such diverse organizations as the National Foundation on the Arts and Humanities, the Atomic Energy Commission and the office of the Surgeon General of the Army.
Hogness was born in Oakland, Calif., on June 27, 1922. His father was a chemist who worked on the Manhattan Project. His first wife, Katherine, died in 2004. He is survived by his three daughters, Karen Hogness of Charlemont, Mass., Suze Rutherford and Jody Hazen of Snoqualmie; his two sons, Rusten of Santa Cruz, Calif., and David, a physician in the United Arab Emirates; his second wife, Margaret; his four stepchildren, Tyler, Peg, Terry and Tom; a brother, David, of Palo Alto, Calif.; and 10 grandchildren.