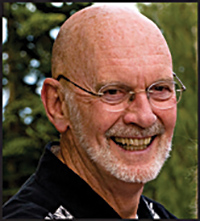 Jon K. Rider, '62, '63, a former Marine commander who changed careers and spent six years as executive director of the University of Washington Alumni Association, died Aug. 9 of pulmonary disease at his home in Kennewick. He was 70.
Born Jan. 9, 1940, in Seattle, Rider attended Roosevelt High School before matriculating at the UW. He served three tours of duty during the Vietnam War, earned two master's degrees (one at Pepperdine University and another at the University of Maryland), and earned an advanced degree from the Naval War College.
After 27 years in the Marine Corps—where he was commander of the School of Infantry at Camp Pendleton—he headed the UWAA from 1990 to 1996. He later worked as a consultant and training expert at the Pacific Northwest National Labs in Kennewick.
Despite his long career in the military, he was known as a gentle soul with a warm manner and easy laugh. As a tribute, his old Seattle rowing team, the Ancient Mariners, named its new rowing shell the Jon K. Rider.
Rider is survived by four daughters, his sister Carolyn, granddaughter Jordan, best friend Robin and former wife Ellen.