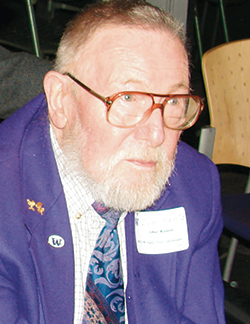 Boats shot through the water, signaling the start of the final 1936 Olympic crew race. Yet Joe Rantz and his seven Husky teammates remained motionless in their shell, unaware that they had already fallen behind in what would come to be known as one of the greatest athletic contests in UW history.
Growing up, Rantz had always been an athlete. A gymnast from Roosevelt High School, he caught the eye of UW Crew Coach Al Ulbrickson Sr. and earned a spot on the varsity roster his freshman year.
At that time the team had already won a number of national championships, but with Rantz in seat 7 the Huskies were unstoppable, undefeated and on their way to the Berlin Olympics the summer following his junior year.
Over 70,000 people, including Hitler himself, watched from the sidelines Aug. 14, 1936, as the Huskies climbed into their boat, struggling to hear over the wind whipping across the waters of Lake Grunau, 20 miles south of Berlin.
Ranked last, the Huskies were seated farthest from the starting announcer, in lane 6, with crowd favorites Germany and Italy poised in lanes 3 and 4.
Before they knew it, their competitors had taken off. Rantz and the Huskies had missed the announcer's instructions.
"Let's get out of here. The race has started!" newspaper accounts say Rantz yelled. Rowing at 44 stokes per minute, the team was faster than ever before, surpassing Great Britain, Hungary, Switzerland and Germany, and overtaking Italy in the final 10 strokes of the race.
Only six tenths of a second ahead, the Huskies finished the 2,000-meter race at 6:00.86, winning the gold medal, and setting both a world and Olympic record for eight-oared crew.
Rantz returned to the UW, graduating in 1939 and marrying Joyce Simdars the same day he received his degree. He then spent the next 35 years as a chemical engineer with Boeing, contributing to the invention of a dust-free workspace known as a "safe room."
In 1970, Rantz and the Huskies were inducted in to the USA National Rowing Hall of Fame. Nine years later, the UW established its own Hall of Fame, welcoming the 1936 team as one of its earliest members.
Rantz died of natural causes at his daughter's home Sept. 10. He was 93. Memorial gifts can be made to the Husky Crew Program, Box 354070, University of Washington, Seattle, WA 91895.