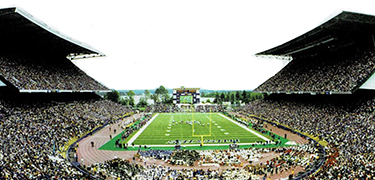 The Washington Legislature postponed decisions on two major UW projects at the close of its session March 13, but it did enhance the UW's operating and capital budgets, adding modest amounts to each.
Bills to establish a third UW regional campus in the north Puget Sound area never made it to the floor of either chamber. And a plan to use state revenue to help renovate Husky Stadium also stalled in committee.
"Both issues are still very much alive," says UW State Relations Director Randy Hodgins, '79, '83, adding that ambitious and expensive projects "often take more than one session to happen in Olympia."
Snohomish County is the most populous county in the nation without a four-year college or university and its lawmakers want to increase access to higher education. Before the session started, consultants hired by the state recommended a site for a UW campus in downtown Everett centered at the Pacific Station transit hub. However, legislators north of Everett preferred the runner-up, a site near Marysville at Smokey Point.
The location dispute was one reason the proposal stalled in the Legislature, says Hodgins. But an even greater challenge was the price tag—up to $850 million in capital costs over the next two decades to build a four-year university with a concentration in science and engineering.
The fate of Husky Stadium became part of a bigger issue regarding public financing of sports arenas and facilities, with the threatened departure of Seattle's NBA team part of the mix. Some revenue is available because debt payments for Safeco Field and the repairs to the Kingdome roof should be paid off early in the next decade, while bonds for Qwest Field will be paid off by 2021.
Those payments come from hotel/motel, restaurant and car-rental taxes only levied in King County. The UW is among several public and private organizations looking at that revenue to fund sports and arts facilities, low-income housing, youth recreation, Puget Sound restoration and other development projects.
Hodgins says getting the Legislature to at least consider financing part of the $300 million stadium renovation was progress. The lower bowl of the stadium, built in 1920, is crumbling and the beloved structure needs to meet federal standards under the Americans with Disabilities Act.