Maestro of music and dance to step down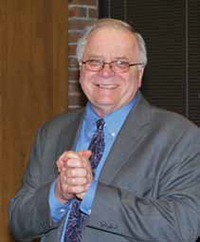 For almost 30 years, Matt Krashan has worked to attract world-renowned artists to perform at the UW, nurturing the World Series program from its infancy in the early 1980s to the present day when greats such as Grupo Corpo and Pilobolusthe dance companies regularly appear at Meany Hall.
Krashan, the UW's maestro of music, dance and more, will retire in September from his position as director of the UW World Series, a program that is recognized nationally for its excellence and innovation in the performing arts.
Krashan was also instrumental in exposing young minds and hearts to music and dance in the public schools. He developed Community Connections, an education and outreach program that reaches more than 10,000 students each year and provides local public schools with nearly 100 free workshops, matinees, artist residencies and master classes with visiting artists.
"It's been a wonderful 29 years of bringing so many great artists to our stage and sharing them with our community. Being able to present them in a world-class facility like Meany Hall has been a real pleasure," he says.
A grand gala will be held June 24 at Meany Hall to honor Krashan and to benefit the Matt Krashan Endowed Fund for Artistic and Educational Excellence in the Performing Arts. A nationwide search is being conducted for his successor.