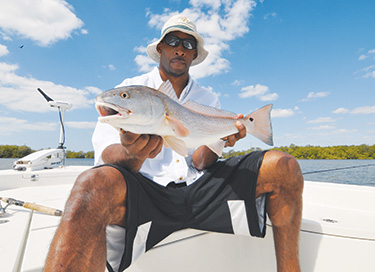 I knew former Washington linebacker Victor "Marquis" Cooper, '04, only briefly, and only professionally. As a sports reporter for The Daily covering Cooper's four-year career at the UW, I considered him one of my all-time favorite interviews. And it wasn't just the things he said that kept me coming back for quotes; it was his upbeat attitude and ear-to-ear smile.
On and off the field, Cooper had an infectious optimism. Be it a gloomy spring practice or the gut-wrenching moments following a tough Huskies loss, Cooper was a joy to talk with and one of the most memorable players I've had the fortune of meeting.
Sadly, Cooper and two other passengers aboard his 21-foot fishing boat were presumed dead March 6 after the vessel capsized in rough seas near Clearwater, Fla., five days earlier. He was 26.
A member of the NFL's Oakland Raiders, Cooper loved football and fishing. His friend Corey Smith, a free-agent defensive end who spent last season with the Detroit Lions and was a teammate of Cooper's in Tampa Bay, was also lost at sea, along with former University of South Florida football player Will Bleakley. A fourth passenger, Nick Schuyler, also a former South Florida player, survived after spending 46 hours clinging to the overturned boat, according to reports.
At 6 foot 3 and 230 pounds, Cooper was considered small for a linebacker. But he made up for his supposed lack of size with heart and hustle. The Tampa Bay Buccaneers selected him in the third round of the 2004 NFL Draft and he played in 42 games with seven different teams, including a brief stint with the Seattle Seahawks in 2006.
Cooper made an immediate impact as a true freshman at the UW, playing in every game of the Huskies' 2000 Rose Bowl season. Three years later-he graduated with a degree in sociology-Cooper was the team's leading tackler. He capped his UW career by returning an interception 38 yards for a touchdown in the Huskies' 2003 Apple Cup victory.
That year, the UW finished 6-6 and missed the postseason for the first time since 1994. But even then, in the midst of a disappointing campaign, Cooper kept his cool. I remember seeking him out on the practice field and in the locker room after each game. I just wanted to be around the guy.
If he could make that kind of impression on me in the brief moments we shared as UW students, I can imagine how beloved he must have been as a husband, father, teammate and friend. It's no wonder Rick Neuheisel, Cooper's coach at the UW, said of him, "Marquis' smile could light up a room. I know it sounds cliché, but it was true. He was always in a good mood."
A native of Gilbert, Ariz., Cooper is survived by his wife, Rebekah, and 3-year-old daughter, Delaney.
---