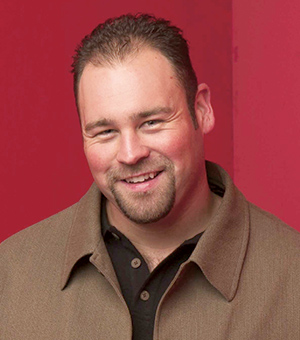 Matt Rogers, '01, first tasted the limelight when he played on the Husky football team that won the 2001 Rose Bowl. This year, he reveled in more adulation as a finalist on the TV show American Idol.
The 6-foot-5 Rogers, who transferred to the UW in 1999 from Iowa and played one year with the Huskies, was a big hit as a singer while on American Idol. He made it as one of 12 national finalists, but was eliminated from the show on March 24.
Rogers, 26, a loan officer by day, never took voice lessons but sang in junior high and for his church choir. In preparation for his appearance in the show's finals, he went to a song leader at his church in Southern California to learn stage presence and took three voice lessons.
"I've always wanted to be, not necessarily a singer, but an entertainer of some sort," says the former offensive lineman who makes his home in Rancho Cucamonga, Calif. "But I've always loved singing. At football practice, in the shower, or in the car, I was always the guy who was singing one song or another."
Rogers, who proudly wore his Rose Bowl ring and gave props to his time at the UW when he performed on the show, made the cover of the March 9 TV Guide. There are also many Web site shrines in his honor.
Although he didn't make it to the top of the heap (apologies to Frank Sinatra) this time around, he isn't about to give up on his dream.
"I just want to keep growing," the singing loan officer says. "With this experience, I will meet more people, make more contacts, and will just keep going one step at a time. I've always believed that if you have to keep your head on straight, start at square one and always remember where you started, you can succeed."