Mount Rainier poses top threat among Cascade volcanoes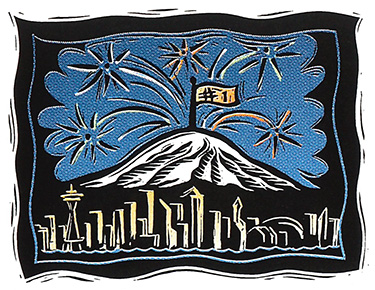 Mount Rainier has moved to the top of the list of a UW scientist's most seismically hazardous Cascade volcanoes, the UW reported in April.
Geophysics Research Professor Steve Malone demoted Mount St. Helens to the number two spot this year. "Moving Mount Rainier to the head of the list doesn't mean it has become more active; it means Mount St. Helens has quieted down, relatively speaking, in recent years," he explains.
Volcanic earthquakes present a different kind of hazard than tectonic earthquakes. Volcanic earthquakes tend to be relatively smaller and localized. While Mount St. Helens may have small-magnitude quakes in its crater, they pose no hazard outside the immediate vicinity of the crater.
On the other hand, a moderate volcanic quake beneath Mount Rainier could trigger massive ice, rock, water and mud flows. These could quickly clog valleys, bridges, roads, rivers and demolish everything else in its path, warns Malone.