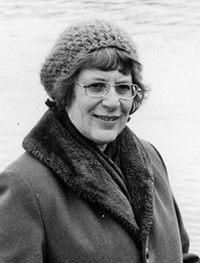 Naomi Brenner Pascal was a legend, not only at the UW, but also in the world of international academic publishing. A native of Brooklyn, Pascal graduated from Wellesley College in 1946 and took her first venture into academic publishing with Vanguard Press in New York. She later moved to the University of North Carolina Press before coming to the UW in 1953 when her husband, Paul Pascal, was hired by the UW classics department.
It was the beginning of a legendary career in Seattle. Pascal went on to work for 54 years at the University of Washington Press in a number of positions. Promoted to editor-in-chief in 1974, she worked with a pantheon of authors that included Nobel Prize winners. She acquired hundreds of influential books, especially in Native American art and culture, Asian American studies, Jewish studies, and architecture. Some examples of the major works she acquired and edited include Northwest Coast Indian Art by Bill Holm, Market Sketchbook by Victor Steinbrueck, and The Natural History of Puget Sound Country by Arthur Kruckeberg.
Those at UW Press remember Pascal as a model of grace, good humor and high standards. She mentored by example, cared deeply about her work and her colleagues, and she was beloved by authors, not always an easy group to befriend. Pat Soden, director emeritus of UW Press, called Pascal "the finest editor in the history of American scholarly publishing."
The Association of American University Presses conferred on Pascal the first Constituency Award given to individuals who have made outstanding contributions to university press publishing. Pascal died at home in Seattle Dec. 5 at the age of 88.