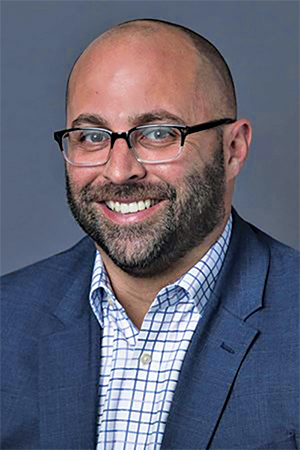 When he was in high school, Jason Butikofer knew that he wanted to work in college sports. After graduating from the University of Iowa, he started on his career path, working for athletic departments at Arizona State University, the University of Minnesota, Army, Southern Utah University and Purdue University, where he had reached the rank of deputy athletic director. His rise was so impressive that Sports Business Journal named him on its "Power Players" list in 2019.
And now, Butikofer has reached an even higher level as the Chief Operating Officer for Husky athletics. "I knew [Athletic Director] Jen Cohen for a couple of years, and when I was at Purdue, we had numerous discussions about Athletic Department needs. … She told me she had an opening, and it made sense for me to move to Seattle and the University of Washington. It's a great city to live in and a great brand to be associated with."
Butikofer, who starts his second year with the Huskies in April, has an impressive array of responsibilities. In addition to serving as the administrator for some of the UW's most prominent sports—men's football, basketball and rowing—he works with head coaches and directors, strength and conditioning, and sports medicine. "I also work closely with head trainer Robert Scheidegger on health and wellness of our student-athletes, as well as with our other doctors. That has been a unique role during COVID, to work closely with those individuals to put forward COVID protocols that have enabled us to return to play."
He also oversees responsibilities with the Tyee club, ticket operations and sales, marketing, strategic communications and corporate sponsorships. And he plays a key role in the University's relationship with Adidas.
"It has been an unbelievable experience (coming here)," he says. "This is a very well-respected, well-run athletic department. My goal was to help Jen further elevate our efforts on the external side of the house, and work closely with a few of our programs. I definitely have aspirations to become an athletic director at some point in my career. That is down the line. Now I am just so excited to be here in Seattle and to be part of this department—and get us through COVID and back to normal."