For the first time in its history, the UW will be getting more money from tuition than from the state of Washington. The 2009 state legislative session, which concluded April 26, produced unprecedented cuts in spending on higher education, including a 26 percent reduction in funding over two years for the UW. "As far as we know," UW President Mark A. Emmert wrote in an April 27 message to the UW community, "it is by far the largest reduction in state support to a flagship university by any state in the nation."
This lost revenue will be offset, in part, by a tuition increase—the Legislature gave the UW Board of Regents the power to raise tuition by up to 14 percent for the 2009-11 biennium. An additional, one-time appropriation of $25 million in federal stimulus money will also help. But the UW will still be left with a budget cut of roughly 12 percent, making additional staff layoffs and other cost-saving measures inevitable. Enrollment will decrease by about 1,300 students annually.
For students, the federal stimulus program will also take some of the sting out of the tuition hike by increasing the number and size of Pell grants and expanding the tuition tax credit. But, Emmert acknowledged, the financial picture is not rosy for anyone. "I do not underestimate the effect of increased tuition on many of our students," he wrote.
The fix is out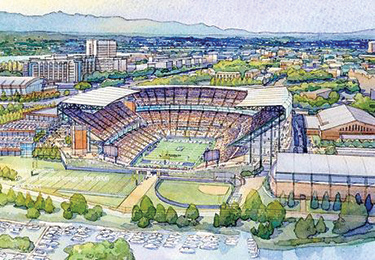 The close of the legislative session also brought to an end any immediate hopes for a renovated Husky Stadium. Legislators chose not to act on Senate Bill 6116, which would have let King County tap into an existing restaurant and hotel tax in order to pay for half of the proposed $300 million stadium upgrade. The UW had argued that the project would create thousands of jobs and address safety concerns about the aging stadium. But Scott Woodward, the UW's athletic director, acknowledged that an economic downturn is a difficult time in which to sell such a project. "How do you lay off teachers and cut back on programs and then build a stadium?" he said. "That was the psychological disconnect that a lot of people had a hard time getting around and I understand that wholeheartedly."
Undergroundbreaking
Husky Stadium—whatever else the future may hold for it—will be much easier to reach from downtown in a few years. Construction began in early March on the next phase of the Sound Transit light rail system, a 3.15-mile underground link between downtown and the UW. Work on the light rail's initial segment, connecting downtown and Tukwila, should be completed in time for a July opening, with another leg that extends to Sea-Tac Airport ready for use by the end of the year. The UW link will require seven years to complete—but, when it's finished, will offer a seven-minute ride from downtown to the stadium.
---