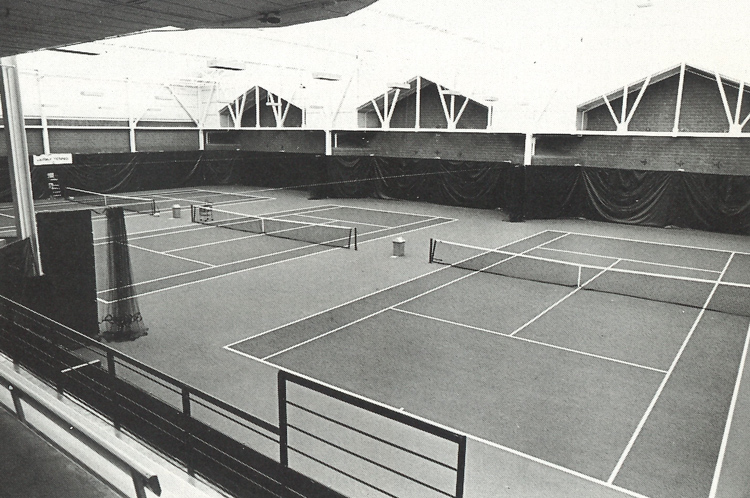 The $4 million Lloyd Nordstrom Tennis Center opened June 1, the newest athletic facility on the UW campus. A six-court indoor center, it is located near Lake Washington east of "Hec" Edmundson Pavilion and north of Husky Stadium.
The center was made possible by a gift of $2.5 million from the family of the late Lloyd Nordstrom, who was a member of the Husky varsity tennis team from 1930-32. An additional $1.4 million from the Department of Intercollegiate Athletics completed the funding. No state funds were used for this project.
The 51,000-gross-square-foot facility has seating for about 275 spectators. The varsity men's and women's tennis teams will have priority use, with students, faculty and staff allowed access as scheduling permits.
"My family is proud to honor the memory of Lloyd Nordstrom with the presentation of this indoor tennis center to the University of Washing­ton," said Illsley Nordstrom, wife of the late Lloyd Nordstrom.
Nordstrom earned letters in varsity tennis in 1930, 1931 and 1932. He also won the conference northern division singles title in 1931 and, with George Hoyt, won the doubles title in the same competition. Born in 1910, Nordstrom was the youngest of three sons of John Nordstrom, the founder of Nordstrom Inc. After leaving the University in 1932, Lloyd Nordstrom joined the family business, later serving as co-president and co-chairman from1970 to 1975. He died in January 1976.
In related construction activity, the west stands of Husky Stadium were torn down and replaced in time for the Sept. 9 opening football game against Texas A&M. The $3.7 million facelift gives Husky fans better seating, more concession stands and rest rooms, a new first-aid room, a police security area and a photo deck. Also new is a $1.5 million synthetic surface track donated by the 1990 Goodwill Games Seattle Organizing Committee. The eight-lane track will be used during the games to be held at Husky Stadium and elsewhere in Seattle, Tacoma, the Tri-Cities and Spokane.