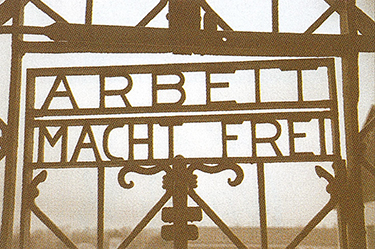 On my first trip to Europe, I was a fresh college graduate with a backpack, a railroad pass and months of free travel time. It was a carefree existence visiting Gothic cathedrals and art museums, staying in hostels and meeting up with young people from all over the world.
In the midst of this months-long party, I found myself in Munich just a few weeks before Christmas and hooked up with a fellow traveler from New Zealand. While we had a great time on a pub crawl through Schwabing—the student district—there was a nagging obligation in the back of my mind.
"You know, we really have to visit Dachau," I said to Morris. "I don't really want to go there, but I know I need to go." Morris, who didn't know any German, reluctantly agreed, partially, I think, because he wasn't that adventuresome. He depended on my meager German skills to go anywhere. Since the hostel was closed in the middle of the day, he had to go somewhere. He decided to tag along.
The next morning we took the S-Bahn to the village of Dachau—once in the country but now practically a suburb of Munich. I had expected the camp to be right next to the train station, but found out we had to take a bus. Normally Germany had plenty of helpful information signs for tourists to find local sights from the train station—but Dachau was different. There was really nothing that I saw explaining where the camp was or how to get there. I had to ask the ticket seller which bus to take, and then had to ask the bus driver to let us know where to get off.
The sky was slate gray, the weather cold and nasty. We passed open fields covered with a few inches of snow, dead stubble jabbing through a white blanket. We finally arrived at the camp and found it virtually deserted, just the caretaker and a few other tourists.
As we walked through the exhibits in the empty museum building, it felt like the ghosts there were walking with us. Gazing at photographs that coolly captured the horrors, I tried to somehow assimilate the magnitude of the Holocaust. "What did the photographer feel?" I asked myself. "How could anyone even take a picture of this?" As I thought this through, I decided that perhaps taking these pictures was the only way someone with a camera could fight against this crime—that someday, someone would see these images. That the truth would finally be told.
Last night I visited Dachau again, but this time it was on my TV screen. I watched the Academy Award-winning documentary The Last Days, the tale of five Hungarian Jews who survived the Holocaust. Directed by James Moll with Stephen Spielberg as executive producer, it is a powerful, personal account of the Nazi terror, told through the words of the survivors, who revisit their hometowns and the concentration camps that imprisoned them.
One of those survivors, Tom Lantos, came to America after the war on a scholarship to the University of Washington. Of the five years he spent here getting his bachelor's and master's degrees, he says, "It was the happiest time of my life."
In an amazing victory over evil, today Lantos is completing his 10th term in Congress, representing a district near San Francisco. In the final moments of the film, we see him striding up the steps of the Capitol and meeting with Congressional leaders. "My life today is something I myself cannot believe," he says in the film. "It all seems like a dream."
As an editor constantly trying to judge the interests of his audience, my bet is that Columns readers will want to learn about Lantos. That's why he is the subject of our cover story, "Against All Odds." On the other hand, I suspect that some of our readers don't want to watch a one hour, 26 minute documentary about the Holocaust, just like my traveling acquaintance from New Zealand didn't really want to see Dachau.
But Morris did have a change of heart. As we were leaving the camp, standing in cold slush at the bus stop, he turned to me and said, "Tom, I that was an unbelievable experience. Thanks for taking me. I really needed to see this. I won't forget it the rest of my life." To Moll, Spielberg, Lantos and the others involved in this movie, thank you for taking me. I won't forget, either.
---