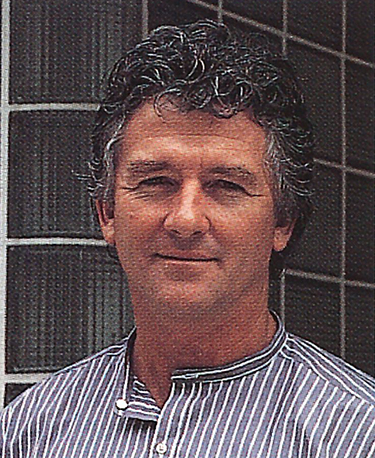 No entertainer can escape dying on stage every now and then. But Patrick Duffy, '71, is one of the few actors who has come back from the dead.
Duffy, you may remember, starred as Bobby Ewing on the TV series "Dallas" when, in the season-ending episode in 1985, his character was struck by a car and was taken off a respirator. In the following season, his grave stone was even seen occasionally. But by season's end, with the show's ratings lagging, producers convinced Duffy—who left because he got tired of the series grind—to return to the prime time soap opera.
Duffy recently reappeared on the UW campus for the first time in a long while, accompanying his son, Conor, to freshman orientation at the drama school. Conor, who wants to be an actor, is following in his dad's footsteps. (His older brother, Padraic, recently graduated from Princeton and is working on a screenplay.)
Visiting campus was an eye-opener for the 48-year-old actor-director. When he was a drama student in the late 1960s and early '70s, Duffy rarely took classes on the main campus. A student in the new Professional Actor Training Program, then in its second year, he and his classmates spent all their time taking classes, studying, rehearsing and performing in such places as the old Showboat Theater, an empty warehouse on the Ave., even in the Wilsonian Hotel on the upper part of the Ave. "It was like being on campus for the first time for me," he explained about his recent visit. "When I was a student here, I never once went to the HUB, or attended a football game, or did anything socially. I was too busy studying, rehearsing or putting on a performance."
A Montana native, Duffy moved to Washington with his family when he was 12. First interested in architecture, he got the acting bug while a student at Cascade High School in Everett. He came to the UW in the late '60s and spent a year as a "regular student" before going into drama. "That was a devastatingly difficult year," he recalls. "I didn't even know you had to register for classes. I just picked things, even a 400-level history class." He got a D minus on that final.
His salvation came when he was one of a dozen students selected from thousands who auditioned for the acting program. In those days, most educational requirements were waived so those drama students could focus on acting. "I never had to take math," he says.
"The program was such a new and vital concept," he adds. "The training was fantastic." He recalls taking part in a question and answer session with Otto Preminger on campus. Duffy says he is indebted to W. Duncan Ross, the first director of the professional actor training program, and Arne Zaslov, now artistic director of the Bathhouse Theatre at Green Lake, for their teaching, support and encouragement.
After acting on stage and screen, Duffy's big break when he starred in the TV series "The Man From Atlantis" before hooking on with "Dallas" in 1978 for a 12-year run as Bobby Ewing. In 22 years in show business, Duffy has been out of work only three weeks, a claim few in his profession can make. During his time on "Dallas," he ranked No. 7 among Hollywood actors for volume of fan mail. In addition to starring in made-for-TV movies, he currently is producer, director and star of a sitcom, "Step by Step" with Suzanne Somers. He directed a number of "Dallas" episodes and directs about half of his current series.
Now that his son is a student here, Duffy, whose sister, Joanne Hunt, was also a UW student and is a Seattle police officer, plans to visit the School of Drama and do an occasional guest lecture. "This is an exceptional program," he says. "I don't think any of us at the time realized how pivotal it was. The program broke the mold, and it's no wonder the caliber of actors coming out of here is so strong." Even those who come back from the dead.