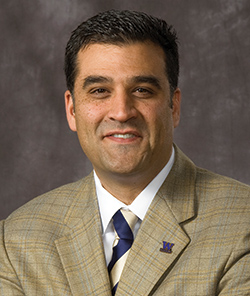 Paul Rucker, '95, '02, who oversaw the expansion of the University of Washington Alumni Association's programming efforts over the past five years, has been named executive director of the 120-year-old organization.
He succeeds Chuck Blumenfeld, '66, '69, who retired June 1 after leading the association for the past two years.
Rucker, who also holds the university title of associate vice president for alumni relations, joined the UWAA in September 2004 as director of alumni relations. In that role, he was responsible for the association's programs and events for alumni and students. In 2007, he also was appointed assistant vice president of constituent relations, overseeing the alumni association's development of partnerships with academic units on all three UW campuses.
With 16 years of experience in higher education, Rucker, 39, is well acquainted with the hurdles currently facing universities. "This is clearly a dynamic time. I recognize there are significant challenges," he says. "But universities have always been part of the solution. I am energized and excited to serve the UW and its alumni."
Rucker is a second-generation Husky whose UW connections are longstanding. A graduate of Roosevelt High School, he put himself through the UW working at a local lumberyard, earning a B.A. in communications and history in 1995. He completed a master's of public administration at the Daniel J. Evans School of Public Affairs in 2002.
The UWAA is one of the largest alumni associations in the country, with 30 full-time staff serving more than 320,000 alumni and 53,000 dues-paying members.