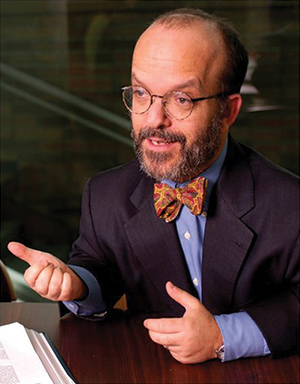 Paul Steven Miller, a University of Washington law professor and a major player in the disability rights movement because of his dwarfism, died of cancer Oct. 19 at his home on Mercer Island. He was 49.
Miller was born on May 4, 1961, in Queens, N.Y. A graduate of the University of Pennsylvania, he earned his law degree from Harvard but was denied jobs by more than 40 law firms until he was hired by Manatt, Phelps & Phillips in Los Angeles.
He then spent 10 years as a commissioner for the Equal Employment Opportunities Commission. He also served as an adviser under Presidents Clinton and Obama.
From 2006 to 2009, he served as director of the UW's Disability Studies Program, and in 2008 he was appointed the Henry M. Jackson Professor of Law.
Miller was instrumental in writing the Americans with Disabilities Act, which recently marked its 20th anniversary.
Miller served on the transition team after President Obama was elected. He also advised the president on key administration appointments.
"In a world where persons with disabilities are still too often told 'you can't,' Paul spent his life proving the opposite," Obama said in a statement.
Miller is survived by his wife, Jennifer Mechem; daughters Naomi and Delia; sisters Marjorie Piquiera and Nancy Miller; stepsister Susan Wolfert; and stepbrother Marc Freyberg.