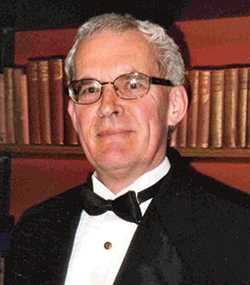 Atmospheric Sciences Professor Peter Hobbs died July 25 after 42 years at the University leading the Cloud and Aerosol Research Group. The group did some of the first studies of the effects of industrial pollution on the atmosphere and some of the earliest research on acid rain.
His team flew through smoke from burning oil wells in Kuwait after the Gulf War and from burning jungle vegetation in the Amazon River basin, and through ash spewing from volcanoes such as Mount St. Helens in Washington and Redoubt in Alaska.
To conduct his research, Hobbs used three airplanes, beginning with a World War II-vintage Douglas B-23 previously owned by Howard Hughes, which is now housed at the McChord Air Museum in Tacoma. He also used a Convair C-131A and later a Convair 580 (dubbed "Husky One").
He housed his planes at Everett's Paine Field, but escalating costs forced him to sell his last Convair in 2002. "We've built up one of the best facilities in the world for this type of study," Hobbs said at that time. "It's a big facility for a university group to run. It takes several million dollars a year, and that has gotten increasingly hard to find." Last year Hobbs and research meteorologist Arthur Rangno made a discovery that put them in the Guinness Book of World Records. While flying over the Marshall Islands in the Pacific and again over the Amazon Basin, the two measured the largest raindrops ever observed. The raindrops, which were at least 8.8 millimeters wide and possibly as large as 1 centimeter, were reported in Geophysical Research Letters.
At the time Hobbs commented, "Well, I suppose it all comes down to this: after publishing over 350 papers and writing several books, the only thing for which I might possibly be remembered is observing the largest raindrop." Hobbs was wrong. His work on aerosol pollutants was critical to understanding the effects of global warming. And his observations on ice crystals in clouds were a key to modern weather-prediction techniques, says Atmospheric Sciences Professor Cliff Mass. "Peter was undoubtedly the leading airborne meteorologist of his generation," Mass told the Seattle Times shortly after Hobbs's death. "His range of subjects was amazing."
Born May 31, 1936, in London, Hobbs came from a working-class background and recalled many hardships his family endured during World War II. He earned his Ph.D. from Imperial College at the University of London in 1963 and was awarded his first National Science Foundation grant at age 29.
As a youth he was a boxing champion and avid athlete, and he never lost his interest in physical fitness. Until he was struck with pancreatic cancer, Hobbs could be seen almost daily jogging around campus with colleagues from his department. Hobbs and Rangno recently received the 2005 Prize for Excellence in Weather Modification Research, awarded annually by the United Nations' World Meteorological Organization and the United Arab Emirates, "for their conscientious application of physical principles to weather modification."
Hobbs is survived by his wife, Sylvia; sons Stephen, Julian and Rowland; three grandchildren; his mother and three siblings. A celebration of Hobbs's life will be held at the beginning of Fall Quarter. Visit for more information.
Donations in his name may be made to the School of Music's Catch a Rising Star Fund, c/o University of Washington Foundation, Box 358240, Seattle, WA 98195-8240.