Pharmacy lecturer focuses on the big picture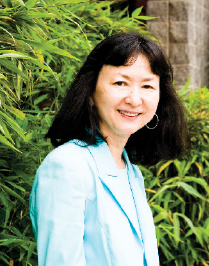 "Where can you make the biggest difference?"
It's a question Annie Lam, '97, senior lecturer in the University of Washington Department of Pharmacy, asks rhetorically, but her answer has been demonstrated clearly over the course of her UW career.
Since returning to school in 1992 to earn her Pharm. D. degree at the UW after more than 20 years as a medical technologist—mostly in Canada—Lam has worked tirelessly to emphasize the importance of community outreach in pharmacy practice. Specializing in geriatric medicine, Lam has rolled up her sleeves to—among other things—administer osteoporosis screenings, monitor hypertension and combat overmedication.
Last year, Lam's seven-year association with Legacy House, an assisted living facility in Seattle's International District, earned her the Practice Innovation Award from the American Society of Consultant Pharmacists. She continues to serve populations close to her heart by providing pharmacy services to new immigrants at the Chinese Information and Service Center.
Not only has Lam taken pharmacy practice directly to underserved populations but she has also been able to get her students involved in her projects. Students were instrumental in her efforts working with older, low-income Asian Pacific Islander residents at Legacy House. Lam also helms residency programs in association with Valley View Clinical Pharmacists, Bartell Drugs and Health Point Community Health Center, which provides medical and dental care at 12 locations that are among the most culturally and economically diverse in King County.
Lam is also acting as co-investigator in a groundbreaking two-year study—funded by a National Institutes of Health grant—examining the viability of talking pill bottles. Patients with poor eyesight and low literacy will benefit. Says Lam: "It gives health-care providers one more way to lend a personal touch.
"Plus," she rightfully adds, "It's cool."
---