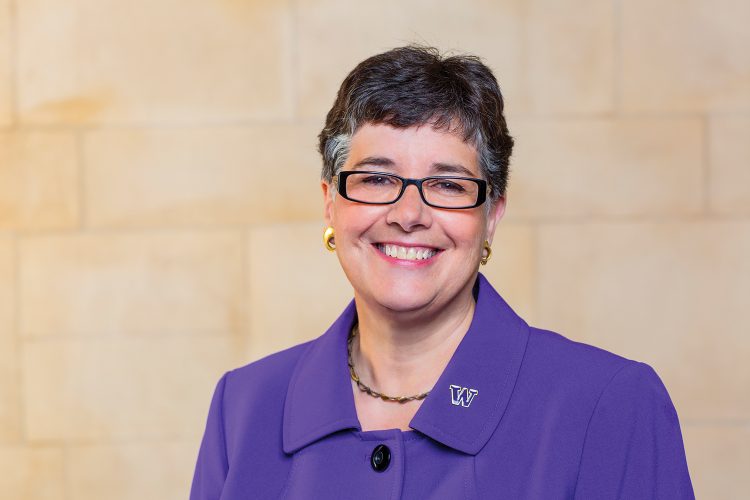 What an outstanding fall this has been for our University of Washington family! In October, we learned that one of our own, Professor Emeritus David J. Thouless, had been awarded the 2016 Nobel Prize in Physics. The University was once again ranked No. 11 among the Best Global Universities by U.S. News & World Report, earning a special mention for our efforts to increase the number of primary care physicians in rural areas. And, as you may have seen in the news, the UW received a truly transformational gift from the Bill & Melinda Gates Foundation—to construct a new facility to house our Population Health Initiative including space for the Institute for Health Metrics and Evaluation, the Department of Global Health and the School of Public Health.
In the last issue of Columns, I wrote that the University was about to launch the most ambitious philanthropic campaign in our history, and on Oct. 21, we did so with a spectacular event. For those who were able to join us, thank you for being part of a very special moment in UW history. For the thousands more who couldn't be there, I want to emphasize that the launch is just the beginning of what we will accomplish together.
What makes this campaign so special is really the thing that makes our alumni, friends and supporters so special: the belief that our ideals, passions and dreams can change the world. By supporting the University of Washington, you support immense public good, like improving public health and access to quality education. You support the extraordinary faculty who inspire our students, expand our universe of knowledge and create lasting works of beauty and meaning. To support the UW is to invest the impact we have here in Washington and around the world.
And as we've seen this fall, the world is taking notice of the good we do. Professor Thouless' Nobel-winning work on superconductivity "opened the door on an unknown world where matter can assume strange states," in the words of the Royal Swedish Academy of Sciences. What began as curiosity-driven basic research may one day inform the development of advanced superconductors and quantum computers.
Sometimes the UW's impact is felt in more personal ways. New graduate Mac Zellem recently took the time to write to Provost Jerry Baldasty and me about how his student experience transformed him. He described how his interactions with classmates with very different life experiences helped "shape and strengthen [his] understanding of the world." When the UW helps expose students to diverse viewpoints and new ideas, everyone benefits.
I invite you to learn more about the many things we are doing and what we aspire to do with the unmatched power of our whole UW community, which stretches, boundlessly, from Washington to every corner of the world.