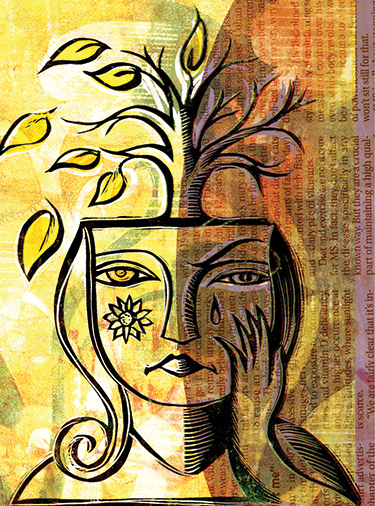 To Jennifer Stuber, the stigma associated with mental illness is black and white: that is, it's right there in the newspaper.
Recently, the assistant professor in the UW School of Social Work led a study of mental health coverage in eight Washington newspapers over a 10-year period. "Often the primary news story that you read is a person with mental illness doing something violent to someone else," she says. In fact, half the stories that she studied fit that pattern.
But most people with mental illness aren't violent, and people with mental illness are much more likely to be victims of violent crime than to commit them. She says, "I believe that mental illness has become a convenient scapegoat for how we explain violent crime."
To correct this imbalance, Stuber launched the Washington State Coalition for Mental Health Reporting, which now includes 250 people with mental illness, family members, and mental health advocates. The group monitors news coverage, developed a list of best practices for reporters covering the mental health beat, and helps connect journalists with mental health experts throughout Washington. Last year, the coalition also held workshops for journalists and advocates in seven communities around the state.
"I think it's making a real difference in the kind of coverage we see," says David Domke, chair of the UW Department of Communication. That is, journalists are beginning to question narratives that link mental illness with violence, and they're writing more positive stories about treatment and recovery.
For example, in April, Scott Hewitt of the Vancouver Columbian penned a story about a formerly homeless woman with mental illness who, with treatment, was able to become an advocate helping others with mental illness. The piece won the coalition's first annual Washington State Mental Health Reporting Journalism Award.
Now, Stuber is collaborating with Domke and other UW communications faculty on a proposal to expand the program nationally. They want to conduct additional research, analyzing not just news content but also journalists' attitudes toward mental illness, and how media stories shape public opinion on the topic. They also envision a national website to be called Mental Health Connect, to serve as an information hub for journalists and a place for discussion with the mental health community. Today, Washington; tomorrow, the world.