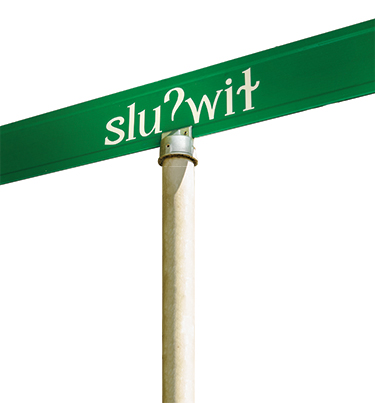 Before white settlement, the land where the University of Washington now sits was home to Coast Salish peoples. They included the ancestors of today's Northwest Native Americans. One of the closest villages to campus—about where University Village is now—was called sluʔwiɫ, a word in the Lushootseed language that loosely translates to "Little Canoe Channel."
The name sluʔwiɫ has been returned to the landscape in the form of a street sign along a small road that runs alongside wǝɫǝbʔaltxʷ—Intellectual House, the longhouse-style learning and gathering space for Native American students and the greater Indigenous community. "This name change has been in the works for a very long time," says Iisaaksiichaa Ross Braine, '09, '15, the University's tribal liaison. He remembers as a student nearly 20 years ago taking part in discussions about renaming roads on campus, including Whitman Court—the street that runs from the main campus arterial of E. Stevens Way N.E. past McMahon and Haggett Halls.
The road was originally named for Marcus and Narcissa Whitman, missionaries who settled along the Walla Walla River and helped establish the Oregon Trail. Because of cultural differences and an outbreak of the measles that killed about half of the Cayuse tribe, the Whitman Mission is a painful chapter for Indigenous people. The connection ended with a massacre of the missionaries and the burning of their buildings.
"It was not a good relationship," says Braine. Instead of ministering to the Indians through their mission, the Whitmans focused their efforts on white settlers traveling through on the Oregon Trail. The mission opened a period of erasure of Native culture and language in American history. The notion of renaming Whitman Court became more pronounced after the opening of wǝɫǝbʔaltxʷ in 2015.
With the support of the Native American Advisory Board to the UW and the Office of Minority Affairs & Diversity, Braine made the case for renaming the street to the Board of Regents in the spring of 2018. "The UW is occupying territory of the Coast Salish," says Braine. "It was good to say that on the record and have the Board of Regents agree." This is an issue of erasure, he explains. Every place the UW touches has a traditional name and a traditional meaning, and many of the original names have been changed or forgotten.
The board wasted no time in unanimously voting to rename the road, noting that it intends to do more to recognize Native place-names of the region to enrich the historical context of the campus.
The new green street sign was created with the help of Tami Hohn, a member of the Puyallup tribe who teaches Southern Lushootseed at the UW. She provided guidance on the spelling, font and color of the sign, as she has done with projects for the City of Seattle and Washington state. It was installed in July, with little fanfare. "It kind of surprised us," says Braine. But it was a good surprise. "It's wonderful to see the language here on campus," he says. It is another step toward making Indigenous students and the greater Native American community feel welcome at the UW. "This is not erasing U.S. history," he explains. "It's celebrating Indigenous history as well."