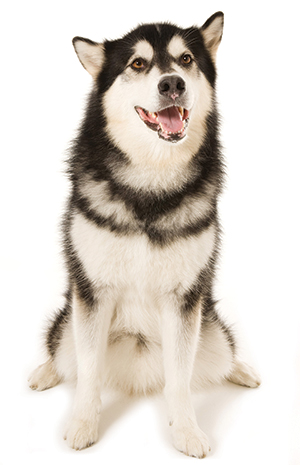 April brought sad news to the University community as Dubs I, an Alaskan Malamute who was the Huskies' cheerful and beloved mascot for a decade, crossed the Rainbow Bridge on April 3. He was 12.
Dubs, who served as the mascot from 2009 to 2019, was always the big Dawg on campus. The 13th dog to serve as a UW mascot, he might have attracted more paparazzi than anyone in school history. Well, maybe except for 3-year-old Dubs II, who took over after Dubs I retired in 2019. (Dubs II is still a bit inexperienced because of the pandemic.)
Dubs' job was demanding: dashing out onto the Husky Stadium field with a handler when the Husky football players came running out of the tunnel before the game. He then could take it easy the rest of the game. He was also the most popular figure at University events and always drew a crowd when he was being walked all over campus.