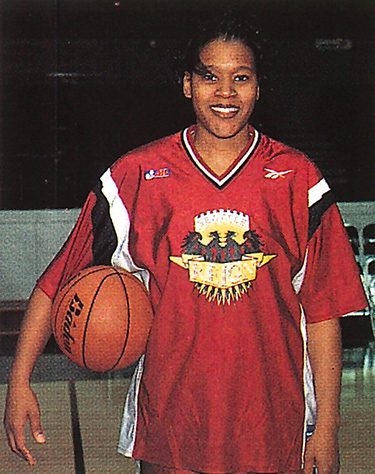 Christmas Day 1995 was memorable for Rhonda Smith, but not in the usual sense. That day, she was 6,000 miles from home, and spent most of the day at basketball practice. It was just part of being a woman's pro basketball player in Taiwan, where most Chinese don't observe Christmas.
Difficult as it was to miss spending the holidays with her family in Seattle, Smith was living a dream come true. The leading scorer in Husky women's basketball history, Smith had always wanted to play pro basketball. But with no leagues in the U.S. in 1995, her choice was narrowed to playing overseas or ending her career.
Now, another dream is coming true. Smith, 25, is finishing up her second season playing for the hometown Seattle Reign of the American Basketball League, one of two fledgling U.S. professional basketball leagues for women. While most of the 16 former UW players who are pros have gone overseas to play, Smith is one of four former Huskies currently in the ABL. Karen Deden Westwater, '91; Tara Davis, '96; and Traci Thirdgill, '91; play for the New England Blizzard. And last season, Laure Savasta, '97, played for Sacramento in the other women's league, the WNBA.
"I love playing pro ball at home," said Smith, a two-time All-American while she played for the Huskies from 1992-95. The UW's all-time leading scorer with 1,801 points, she was selected in the fifth round by the Reign in the ABL's inaugural player draft.
"This is a solid league, not a spectacle," said Smith, a Seattle native who came to the UW after starring at Franklin High School. "This is serious business. And it is really exciting to be playing in Seattle, where the fan base is strong."
She knows first-hand just how strong it is. The Huskies were a popular attraction when Smith averaged 15.5 points a game, leading the UW to an 80-40 record and three NCAA playoff appearances during her four years here. And the Reign has averaged 3,100 fans in its two years, about the middle of the pack in the ABL.
Despite her heralded college career and her one season of being the scoring leader for her Taiwan team, Smith has found her role in the ABL limited to coming off the bench, mainly to play defense. It's a role she finds quite frustrating, especially as the Reign has been well under .500 in its first two years.
In her first year with the Reign, Smith—who is a quarter away from finishing up her bachelor's degree in communications—averaged just 5.8 points, and this season, she is averaging just 2.3 points while backing up starting center Val Whiting.
"It's tough not playing, but something I have to deal with," said Smith, a 6-2 forward who holds seven UW scoring records and is the second most accurate field-goal shooter in Husky history (.530 percentage).
"Still, it is pro ball, and it is at home in Seattle. And I can always say I was part of the first women's pro league."