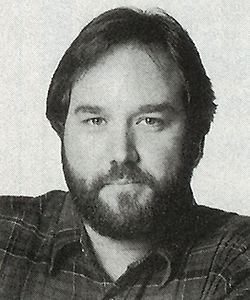 Now, he is a star on one of the highest rated television shows in the land. But not that long ago, Richard Karn was on the brink of being expelled from the UW's Professional Actor Training Program.
Bob Hobbs, the director of the program, told Karn his voice needed work. Karn didn't want to hear that.
"It made me mad," says the bearded 39-year-old actor, "so I started to work harder. It made me realize the stakes were higher."
He learned his lesson well. After a decade of struggling to make it, Karn stars on the ABC show Home Improvement, playing Tim Allen's sidekick on their show-within-a-show.
Karn graduated from Roosevelt High School and earned his drama degree from the UW in 1979. He left for New York fresh out of college and immediately landed a part in a Michelob beer commercial.
Then, he hit the pothole most actors fall into. It was six months before his next commercial. In the meantime, he found other small parts and non-paying roles.
His big break came after he moved to Los Angeles in 1989, and again, it was typical Hollywood. On his way home from a rehearsal of Macbeth, he rolled through a stop sign, got a ticket and was sent to traffic school. There, he met an agent who told him about Home Improvement. It turned out that directors he had met in Michigan some years back were involved with the show. Karn was able to finesse an audition–even though he was told the part was already cast.
"I auditioned because life keeps going," he says. "Maybe they would see me now and remember me for another show or part."
Their memories weren't stretched for long. The actor originally cast for the part left to do a movie role, so Karn had the job.
Savvy about the realities of show business–which he learned under Hobbs at the UW–Karn didn't quit his day job as an apartment manager until the end of the show's first season. Then it was obvious both would be sticking around awhile.
And now, life is very different. He lives in a house, instead of an apartment, with his wife, actress Tudi Roche, and 3-year-old son Cooper. "I have a steady job in the sense that the show could last up to seven years or so," says Karn. "But this business is tough." He owes a lot to his time working with Hobbs in the actor training program. "He made me sit up and listen," Karn recalls.
Karn's résumé reflects the breadth and depth of a hard-working actor who has paid his dues and then some–his credits include films, daytime soaps, Broadway and regional theater. He was back in his hometown this summer when he hosted the Richard Karn Celebrity Golf Classic at the Echo Falls Country Club near Woodinville.
"I have a nice high-profile job and I want to take advantage of it in a positive way," he said of the charity event, which benefited the Fred Hutchinson Cancer Research Center and the Overlake Hospital Foundation.
Being in this position is a nice payoff for the man who was almost expelled from the UW's acting program. "Acting is not necessarily a matter of talent," he says. "What matters is persistence."