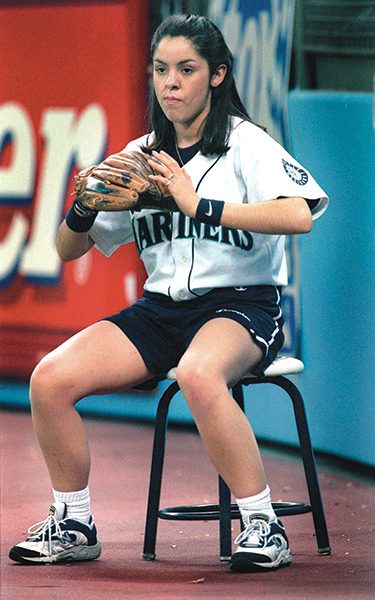 Baseball lost one of its most promising stars Sept. 3 when Rosie Santizo, 29, died in a car accident in Amman, Jordan. Santizo was a UW student finishing up degrees in business administration and Near Eastern studies. But her dream was to one day be a general manager for a major league baseball team. Mariner fans will forever remember her as the feisty left-handed ball girl whose zest for the game was unparalleled.
During a 1998 home game against Toronto, the then-19-year-old Santizo was so focused on snapping up the next foul ball that when Craig Grebeck hit a line drive in her direction she dove onto the field, just missing the ball. It didn't seem to bother the Kingdome crowd that the ball was fair. They loved her spunk and rewarded her with cheering and applause. Grebeck was awarded a ground-rule double, and the play made highlight reels on sports shows nationwide. Santizo's dedication was etched into the collective memory of thousands of baseball fans.
Originally from Guatemala, Santizo grew up in Bellevue. It was her father who introduced her to the sport she adored. He was legally blind, and she often sat with him and listened to baseball games on the radio. While she listened she would visualize each play. She also loved to get outside and play baseball at every opportunity.
She had an affinity for languages, speaking Spanish at home and English at school. She studied Japanese for three years, and was intrigued by a variety of languages and cultures. In her twenties Santizo blended her two passions—foreign languages and baseball—by tutoring Spanish-speaking major league ballplayers in English. She worked with players from the Mariners, the Boston Red Sox and the Baltimore Orioles, including Mariner shortstop Yuniesky Betancourt.
Santizo was also a talented artist who enjoyed sketching baseball players. Approximately 20 of her pieces have been licensed by the Major League Baseball Players Association and hang in ballparks throughout the nation.
At the time of her death, Santizo was taking courses in international studies at American University in Kuwait. She was also working for the Israel Baseball League gaining experience she needed to achieve her goal of becoming a major league general manager. The Mariners observed a moment of silence in her honor prior to their Sept. 7 game at Safeco Field.