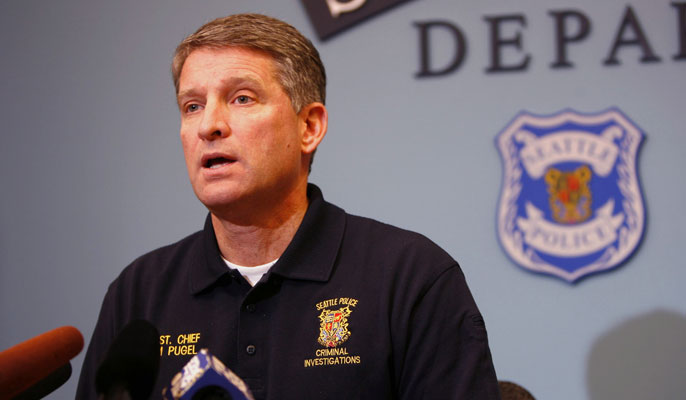 Go into the office of Seattle's Interim Police Chief and you'll find a desk with details of Seattle's most important investigations. There's a photo from the WTO protest, for which he was the field incident commander, and the uniforms he wears as the city's top cop.
But there isn't a trophy case. The closest thing is a basic black shelf that holds a dozen rocks with white handwritten labels: Mt. Rainier, July 31, 1999; South Sister, July 27, 1996; Glacier Peak, May 20, 1995; and more.
The mementos are from the sometimes-grueling adventures Jim Pugel, '81, completes each year with his former University of Washington crew teammates.
"I think the lessons you learn in rowing apply to anything you do in life," said Pugel, who has a Windermere Cup poster framed near his desk. "The ability to get up early every morning six days a week, be told what to do, beat the hell out of yourself, while staying in complete sync with eight other people."
His straight-forward style – formed in part during his years at the UW – has made Pugel one of the department's most respected leaders among the rank and file. However, he also is expected to face criticism for mocking homeless people in a 1986 department training video. The video was publicly released at his request the evening of April 25, and Pugel said he regrets the embarrassment it caused the department and profession.
Pugel, 53, is the fourth child in a family of nine that grew up in Mount Baker. He played football and ran track at O'Dea High School, and as a senior he received a recruiting letter from then-freshman crew coach Bob Ernst.
Pugel joked that he received the letter not so much for his skill, but because he was a high school athlete "with a heartbeat who was 5-foot-10 or more." Ernst, a four-time Olympic coach in his 39th season at UW, doesn't remember the specific letter, but recalls Pugel as one of his all-time favorites.
"He was a fun guy to coach because he was always working hard, he was all for the team, and he was always backing up the other guys," Ernst said. "He's the kind of guy a rookie could come up to and say, 'Hey Jim, could you help me with this?' And he would.
"He's the kind of guy you're proud to see get a chance to be the interim chief."
As a sophomore in 1979, Pugel stroked the junior varsity to the Pac 8 Championships, and later the team went to the Festival of Oars in Egypt.
Pugel had the sense that he wanted to be a police officer as a UW underclassman, so he approached two professors for advice: the late Dr. Peter H. Rohn in the political science department and history professor Jon Bridgman.
Both were exceptional, influential teachers, Pugel said. Students would often visit Bridgman's classes "even if they weren't taking it because he's such a good storyteller."
The professors convinced Pugel that the police skills he needed would be taught by the department. So instead of studying criminal justice, Pugel earned a dual major in political science and English for the well-rounded approach they encouraged.
To pay his college costs—Pugel recalls tuition was $180 a quarter in the late 70s—he worked at the Rainier Brewery, Northwest Steel Rolling Mills and the Greyhound bus terminal. There he saw officers handle runaways and the men who preyed on them, and Pugel said some of his best interpersonal training came through that job.
Pugel was hired by the department in January 1983 after two years as a reserve officer, and one of his early car partners was current Deputy Chief Clark Kimerer. He became a sergeant in 1990, was promoted to lieutenant four years later, and advanced to Captain of the West Precinct – the one that covers downtown Seattle – shortly before the WTO riots in 1999.
He became an assistant chief in 2000, and will assume the role of interim chief role began after Diaz's departure at the end of May.
"He's always been really steady and thoughtful," said Captain Neil Low, an author and UW Bothell graduate who was a platoon commander under Pugel during WTO. "Jim is a shining example of someone who's proud to wear his uniform when he could wear a suit. And I think he's inspired others to continue to wear their uniform."
Same goes for potential police officers. Pugel, who is on the Washington Rowing Stewards, said some of the best young department recruits come from the crew program – and other Husky programs.
Several Husky grads are leaders in the police department, including Assistant Chief Mike Sanford, who earned his master's and bachelor's degrees from the UW, Captain Chris Fowler who oversaw the department's 2013 May Day response, and lead department spokesman Sgt. Sean Whitcomb. When Pugel was a rower, City Councilman and mayoral candidate Bruce Harrell was on the Rose Bowl champion football team, and the gridiron guys would share meals in the shellhouse. Harrell, also a 1984 UW law school graduate, now sees Pugel as chair of the council's public safety committee.
Most of Pugel's siblings are UW graduates, as are his parents. Pugel's younger brother, Chris, was on the men's 1984 national championship crew team, and their sister, Anne, also rowed for Ernst. Two of Pugel's daughters are UW graduates and one, Annie Pugel, is now in the UW Medicine General Surgery Residency Program working at Harborview.
"The family's just incredible – one of those five-star families," Ernst said. "Anybody with the last name Pugel, I'm signing them."
Pugel remember the excruciating crew workouts – going from the 520 bridge to Interstate 90 and back – that taught physical and mental toughness.
But what's best, he said, are those friendships formed in the shellhouse with the most beautiful backdrop. And there was something special about the cars honking in support from the floating bridges as they rowed by before 6 a.m.
"There's nothing else like it," Pugel said. "The journey was as good as the races."
---