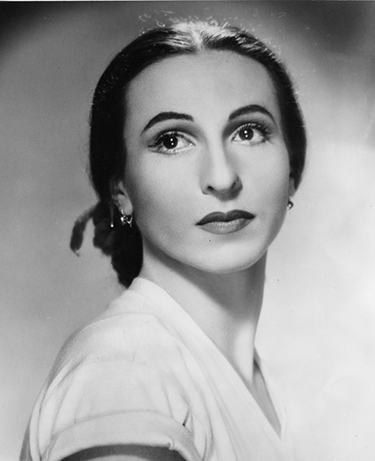 When Ruthanna Boris began her 18-year stint as dance professor at the UW in 1965, there was no separate dance program, dance studio or even live piano accompaniment. She taught ballet on the top floor of the old Armory building, often competing with the erratic noise of ROTC practices.
She brought with her a stunning career as one of George Balanchine's first American ballerinas and as a star of the Ballet Russe de Monte Carlo. But by the time she arrived in Seattle, Boris struggled to walk with a cane, her own dance capabilities waylaid by degenerative arthritis and primitive metal hip replacements.
Born in Brooklyn, N.Y., in 1919, Boris studied at the Metropolitan Opera Ballet School and was among Balanchine's first students in this country. She joined Balanchine and Lincoln Kirstein's School of American Ballet when it opened in 1934. She performed in his 1935 debut season of American Ballet, and with the Metropolitan Opera Ballet until 1942. She then joined the Ballet Russe de Monte Carlo. She was not the first American woman accepted to the Ballet Russe, but she was one of the first to achieve stardom. From 1942 to 1950 she danced the classics such as "Swan Lake," "Les Sylphides" and "The Nutcracker" and she married fellow Ballet Russe dancer Frank Hobi, who died in 1967.
She began to choreograph ballets on her own in 1947 with "Cirque de Deux." She left the Ballet Russe at the end of the 1949-50 season and began choreographing for the New York City Ballet. There she staged her other hit, "Cakewalk." That ballet and "Cirque de Deux" remain her most frequently revived pieces.
Boris' presence in Seattle was part of the city's dance revival. She was pivotal in the planning of Meany Hall, insisting that the architects meet Balanchine's standards of space, high ceilings and ample natural light in its three dance studios. Among her students was Hannah Wiley, '73, former director of the UW Dance Program and founder of the Chamber Dance Company.
After retiring as professor emeritus of dance in 1983, Boris occasionally returned to choreography. She had also developed a keen interest in the concept of movement as a therapeutic tool to enhance well-being. She returned to the UW to study psychology and therapy before moving to the Bay Area. She died on Jan. 5 at her home in El Cerrito, Calif. She was 88.