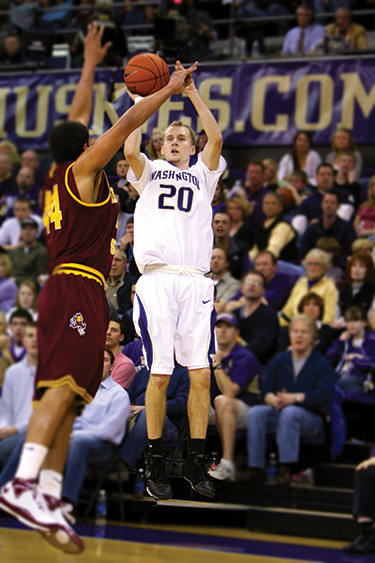 Most Husky fans remember Ryan Appleby, '08, as the determined Husky shooting guard with an affinity for hitting three-pointers. Today, hundreds of young ball handlers know him as the determined coach inspiring them to be winners on and off the court.
After graduating from the UW with a bachelor's degree in sports management, Appleby founded Appleby Basketball, and began offering affordable camps throughout the northwest for kids aged 10 to 18.
"I love basketball, and this is a great way for me to stay involved now that I'm done with school," he says.
Appleby keeps camps small so he can get to know and work with each participant, and his lessons go far beyond form and mechanics. Appleby also stresses the personal and philosophical aspects of victory.
He tells his students it doesn't matter if they have been blessed with raw athletic ability or not. Sheer talent aside, it is sweat that ultimately translates into success. Appleby's mantra is practice, practice, practice—and then go and practice some more.
"I teach them the importance of working hard," says Appleby, 27. "I don't have to ask them how much they have practiced because I already know—it shows."
Hard work and determination sure paid off for Appleby during his playing days. In three seasons with the Huskies, he recorded a school-record 231 three-pointers. In 2006, Sports Illustrated named him the Pac-10's best shooter. During his senior year, he set another school record with nine three-pointers in a single game against Oregon State to help the Huskies go 26-9, and win the Pac-10.
Looking back on his days as a Husky, the Stanwood native says he is extremely thankful for the opportunity to test his limits, learn and grow as a player.
For more information, go to ApplebyBasketball.com.