Samuel E. Kelly, 1926-2009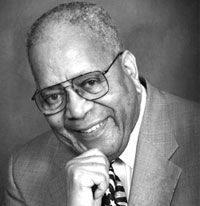 Higher education lost a friend and champion of diversity with the July 6 death of Samuel E. Kelly, '71, from congestive heart failure at his Redmond home. Kelly, who passed away at 83, was the founder and first vice president of the Office of Minority Affairs (OMA) at the UW.
President Charles Odegaard tapped Kelly to take the post in 1970 after the Black Student Union occupied Odegaard's office and presented a list of demands including greater access to the UW for faculty, staff and students of color.
"Dr. Kelly's vision for how universities should recruit and support students from diverse backgrounds was groundbreaking," says Sheila Edwards Lange, '00, '06, the current vice president for minority affairs and vice provost for diversity. "His initial work on higher education diversity put UW on the map nationally, a position that we continue to hold due to the structures he put in place 40 years ago."
Kelly developed innovative programs to recruit and retain minority and economically disadvantaged students at a time when diversity programs were not popular.
Today, the Office of Minority Affairs & Diversity continues to offer programs that carry on Kelly's legacy, including: Outreach and Recruitment Program, Educational Opportunity Program Counseling Center, Instructional Center, Ethnic Cultural Center/Theater and Friends of the Educational Opportunity Program. In 2005, an annual lecture series was begun to honor Kelly, showcasing nationally recognized faculty research focusing on diversity and social justice.
In lieu of flowers, the family has requested that contributions be made to the Samuel E. Kelly Endowed Scholarship Fund at the UW.