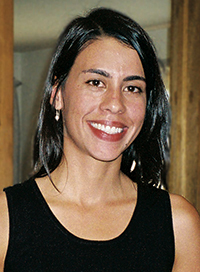 Rebecca Griego, a 26-year-old program coordinator in the Department of Urban Design and Planning and a UW alumna, was murdered in her fourth-floor office in Gould Hall early April 2. According to UW police, the shooter was 41-year-old Jonathan Rowan, a former boyfriend, who then shot himself. The College of Architecture and Urban Planning has established an endowed scholarship fund in her memory.
In March, Griego obtained a domestic violence restraining order against Rowan, a British citizen who had been in the U.S. illegally for 10 years. She also reported threatening phone calls from Rowan to UW police. She moved, changed phone numbers and warned co-workers about her ex-boyfriend. In the wake of this tragedy, and the mass killing of 32 students and faculty at Virginia Tech two weeks later, the UW is reviewing campus security measures.
Griego, a native of Colorado, was a 2004 UW graduate with a B.A. in economics. She worked in the Runstad Center for Real Estate Studies. She mentored a team of UW students that won a regional real estate competition on March 29, just five days before her death.
Urban Planning and Design Professor Jim DeLisle told the press that Griego was "loyal and dedicated, and believed with a passion in her work," adding that "she helped further the education of the people who want to make this place a better world." She developed learning materials and prepared tutorials for students to enhance their learning experience. "Her contributions to the research program in the center were sophisticated and reflected the rigorous standards she set for herself. She was the glue that held so many aspects of the center's programs together," the UW and Griego family said in a joint statement.
"Though I did not have the privilege of knowing Rebecca," said UW President Mark A. Emmert, '75, "the picture that emerges of her is of a brilliant, energetic, vital force helping our students accomplish their educational objectives. She was an exemplar of the best we can offer in guidance and assistance as our students navigate their way towards their careers. Her loss is deeply felt by all who knew her and all whose lives she touched and improved. It is a great loss for the University community, and we are partners in grief with her family."
This was the first campus homicide since a 2000 murder-suicide involving a distraught medical resident and his faculty adviser. According to the Chronicle of Higher Education, the UW is one of the safest urban campuses in the nation.
Contributions to the Rebecca J. Griego Memorial Scholarship may be sent to the Development Office, College of Architecture and Urban Planning, Box 355726, University of Washington, Seattle, WA 98195, or may be made on the Web at uwfoundation.org.