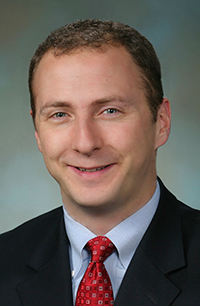 State Sen. Scott White, '01 who died suddenly Oct. 21 of an undiagnosed heart problem, was a rare individual who never met a person with whom he couldn't find common ground. Politicos, higher-education administrators and UW faculty agree that White never let politics or ideology interfere with reaching across the aisle to solve problems for the people he served.
White, 41, who represented the 46th district in the Legislature as the Senate Whip, was a passionate advocate for higher education. He served on the Senate's Higher Education and Transportation committees, where he worked on a range of issues including improving tuition and financial-aid policy and support for the UW's U-PASS program.
Randy Hodgins, '79, '83, UW Vice President for External Affairs, said White's zeal for higher education was rooted in his own experience. White earned his bachelor's degree from Western Washington University and was a 2001 graduate of the Master's in Public Administration Evening Degree program at the UW's Evans School of Public Affairs.
"He knew it gave him the skills and vision to serve the people of the state and he wanted to ensure those opportunities were available for the next generation," Hodgins says.
White also served as a part-time instructor in the Evans School, teaching legislative policy, process and advocacy to graduate students.
"He understood the power higher education has to transform lives and the far-reaching effects it has in the community and across the globe," says Paul Rucker, '95, '02, Executive Director of the UW Alumni Association, and a classmate of White's.
Donations can be made to the Wedgwood Elementary PTSA, EarthCorps or to the Scott White Memorial Fund, an education fund for his two children, which has been established at Wells Fargo: Scott White Memorial Fund / P.O. Box 95675 / Seattle, WA 98145-2675 / Account Number: 1559550528 / Routing Number: 125008547