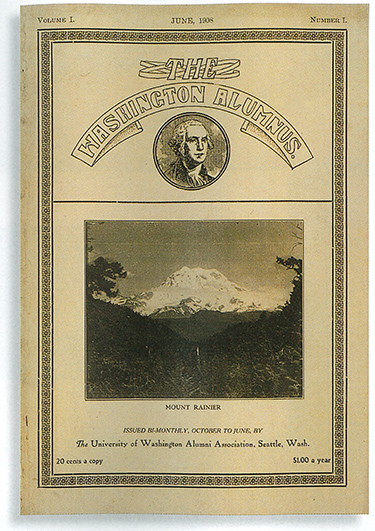 The year 1908 saw the first Model T Ford roll off the assembly line, the first major discovery of oil in the Middle East, the first woman competitor in the Olympics, the first publication of Albert Einstein's quantum theory of light—and the last time the Chicago Cubs won the World Series.
It was also the year that the first edition of Columns (then called the Washington Alumnus) came off the presses.
Alumni magazines were just beginning all over the nation—Harvard started its magazine just 10 years earlier. Alumni leaders wanted to strengthen the UW and knew a magazine could help.
A few years ago the son of the first editor, J.E. Gould, visited the Columns offices and dropped off a pristine copy of the first issue. "The leaders did not want just a local  institution,"  his  father told him, "but a real, Pacific university." He said that those leaders knew the Alaska-Yukon-Pacific Exposition was going to be held on the  UW campus in a year. "They felt the AYP was going to put the UW on the map."
Looking over the pages of that first issue, modern readers can only shake their heads and the headline, "What is the Matter with Washington Athletics?"
At one point, the anonymous editorialist notes, "It seems to be generally agreed that for some time Washington's athletics have been unsatisfactory, ,,, We believe the athlete desires to receive too much credit and attention. … There is no more reason for catering to a student on account of his broad jump than on account of his broad smile. Nothing could be more truly said than that we lack a proper sense of relative values."
There was also a call to the governor  to appoint an alumnus to  the  UW  Board  of  Regents. A long column by the dean of women noted that "during the past six years, the number of women attending the University  has  grown  from  less than 200 to more than 600." That  was  close  to half of the UW's total student body at that time.
There were feature articles, class notes, an alumni association section and even advertising—just like today's Columns.
There have been astonishing changes over the first century of the magazine, but at its heart it remains true to the mission of its first edition—build the connection between the University of Washington and its alumni. As the editors wrote at that time, "United we shall stand. As strangers we can do nothing."