Interactive trash bins lead to smarter garbage habits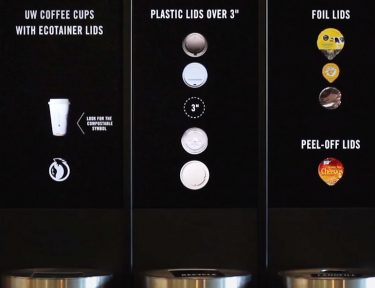 Compost. Recycle. Landfill. Three words, so many headaches. Aluminum can? Easy. But which bin does a fork go in? How about plastic wrap?
To streamline the process—and to make it a little fun—design professors Karen Cheng and Kristine Matthews, '90, installed interactive signs above trash cans in PACCAR Hall and Odegaard Library.
These smart bins display scrolling animations to help users make the right choice, and the screen calculates how many ounces are tossed inside and how much money that saves. Early results show an 8 to 10 percent increase in accuracy. To see more, watch this video about the project.