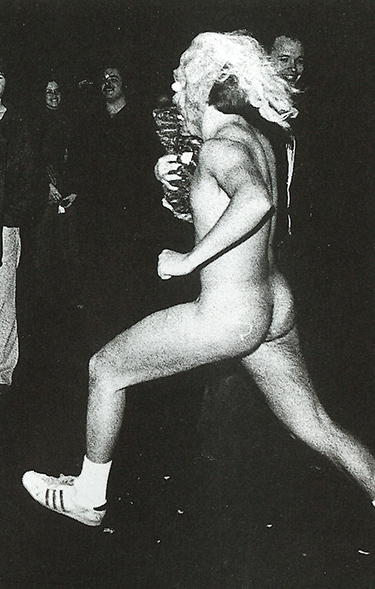 It was a time of cover-ups and uncoverings.
In March 1974, President Richard Nixon was under siege as new Watergate revelations were stripping away his defenses. But on college campuses across the nation—including the UW—a new fad delivered a different kind of naked truth. It was called streaking.
The mostly male phenomenon called for a streaker to take off all of his clothes in the privacy of a rest room—save for his tennis shoes—burst out of the building and run across a very public space. During this March Madness, no one was safe from a "streak." Even the "CBS Evening News with Walter Cronkite" and the Academy Awards broadcast had streaking incidents.
The fad hit the UW campus on the morning of March 5, 1974, when eight men from an unidentified fraternity left Smith Hall wearing ski goggles on their heads and tennis shoes on their feet—and nothing else.
"What a thing to start your day—when it's 8:30 and you're headed for your Shakespeare class," one female student told the press.
That evening Greek Row was the site of a "streak festival," with about 200 people watching assorted faddists. The following night the crowd grew to 2,000 and N.E. 47th Street was so jammed that a nude run was impossible much of the rime. Exhibitionists showed their stuff in cars, on bicycles, on rooftops and even in wheelbarrows—despite the 33-degree temperature.
Other streaks hit public places such as "Red Square" and the IMA. Police mostly stood on the sidelines. Only two people were arrested during a week of streaking, and only one was a UW student.
Daily Editorialist Dean Paton blasted the fad and its links to campus Greeks, stating, "The kind of dork who would get a jolly out of wagging a pimply butt in the chilled air … is the same type of ergot who'd whip off the ol' raccoon coat, cram into a telephone booth with 23 other brothers … and gulp down a dozen slithering goldfish."
That tirade produced a flood of rebuttals. "What's wrong with fun?" wrote one student. "Apparently everything, if we are to believe The Daily's lead editorial. lt is certainly a relief to know chat human nature never changes—that the passionate and self-appointed saviors of humanity still despise the people."
According to UW History Professor William Rorabaugh, author of a book on student protests of the '60s, the fad was more than just campus high jinks. "It was a signal of the end of the protest era that proceeded it," he explains.
"Every student generation wants to distinguish itself from the previous generation. You have to understand that among students the mix changes every three to five years.
"This was a generation statement: 'The war is over. Radical politics is over. Let's just have some fun,'" he says.
Could it happen again? With the rising costs of higher education forcing students to juggle work and study—and tensions on some campuses due to ethnic or racial conflicts, "This is not the atmosphere to induce someone to go naked into the fountain," says Rorabaugh.