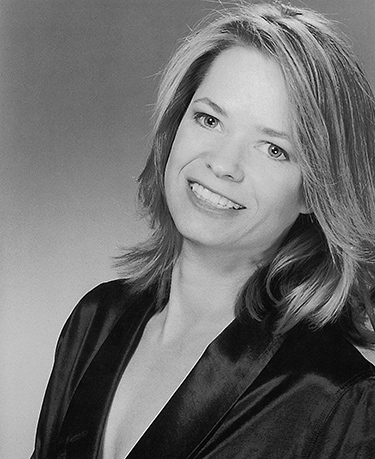 Jumping out of helicopters, driving speeding cars and fighting bad guys is all in a day's work for Marla Casey, '86. But this Hollywood stuntwoman and former UW gymnast never expected life to take her on a journey more common to superheroes than humans.
For the past 10 years, the Bellevue native and lifelong gymnastics enthusiast has risked life and limb every day, performing stunts in such popular TV shows and movies as Charmed, VIP, X Files, Dante's Peak and Charlie's Angels.
Casey, who worked with abused children and teen runaways after earning her B.A. in psychology from the UW in 1986, had always hoped that gymnastics would play a major role in her life. A member of the Husky varsity gymnastics team from 1982-1984, Casey got her start in stunt work on a trip to Knott's Berry Farm in Southern California 10 years ago when a stuntman asked Casey to be an audience participant in a stunt show. She talked with the stuntman about his work, and enjoyed her stint on stage so much that she enrolled in a stunt school when she returned to Seattle.
By the end of the six-week course, one of Casey's instructors was so impressed with her abilities that he recommended her for a role in the 1992 motion picture The Hand that Rocks the Cradle, which was filming in Seattle. That experience, which she describes as "beyond what I could have dreamed," inspired Casey to move to Los Angeles.
Today, Casey, 38, is at the top of her field. Doubling for Drew Barrymore's character in the 2000 movie Charlie's Angels, she fought villains, climbed walls, and jumped from exploding castles. She won a prestigious World Stunt Award for Best Aerial Work for a scene in which she climbed out of a helicopter flying high over the ocean, her only safety equipment being a full body harness and two wires bolted to the chopper's floor.
Casey never expected to reach such heights. "I didn't search for it or ask for it, it just came by chance," she says. "The world makes your opportunities and I just say yes to them. I just feel so blessed."